By R.J. Erickson - Nstarzone.com
On December 31, 2011 while vacationing in Hawaii, Barack Obama signed one of the most odious bills ever signed by an American president into law. The National Defense Authorization Act for 2012 gives authority to the president, or dictator, to order the military to indefinitely detain U.S. citizens without official charge or trial on just the suspicion of being a "terrorist".
The bill passed the House and Senate by large margins, with only a few holdouts from both parties voting no. Only 32 percent of the House voted against it. Only seven senators voted against it. Apparently they're the only ones left that seem to have the slightest concern about a little document called the Bill of Rights. It was so blatantly unconstitutional that even Obama had threatened to veto it, that is before signing it into law.
Obama did add a written statement that quote, "My Administration will not authorize the indefinite military detention without trial of American citizens." Really? Well why would he sign it if he found it to be so objectionable? Apparently with the election coming up Obama felt that his little side note would give him some cover, but there's no soft peddling this. Obama just signed away the Bill of Rights.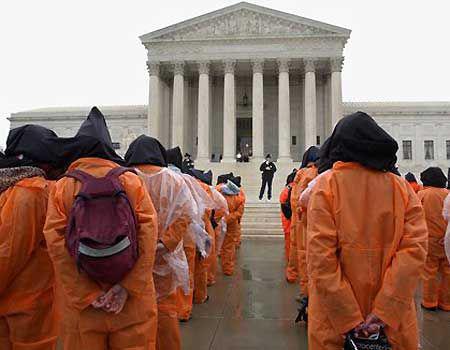 Government apologists might try to argue that there is nothing for Americans to fear, unless you're a "terrorist". So "We the People" are supposed to trust our "leaders" definition of who a terrorist is. A "terrorist" could be a political enemy of whoever is sitting in the White House. Arrested without trial. No jury. Detained indefinitely. That's the very definition of dictatorship. It is beyond criminal.

Out of all the contenders for the presidency, there is only one who has come out against this abomination. Of course it was Ron Paul. He said of the bill,

"Little by little, in the name of fighting terrorism, our Bill of Rights is being repealed...The Patriot Act, as bad as its violation of the 4th Amendment, was just one step down the slippery slope. The recently passed (NDAA) continues that slip toward tyranny and in fact accelerates it significantly. The main section of concern, Section 1021 of the NDAA Conference Report, does to the 5th Amendment what the PATRIOT Act does to the 4th. The 5th Amendment is about much more than the right to remain silent in the face of government questioning. It contains very basic and very critical stipulations about due process of law. The government cannot imprison a person for no reason and with no evidence presented or access to legal counsel."

The Bill of Rights has no exemption for "terrorists" or anyone else from it's protections. It's supposed to be the bedrock of our legal system. It's to protect the people from a tyrannical and out of control government. Something we are badly in need of, now more than ever.