Brazilian President Jair Bolsonaro has filed a lawsuit asking a court to invalidate votes from "malfunctioning ballot boxes," according to Gazeta Do Povo.
According to the petition, an audit carried out at the request of the Liberal Party found that the old ballot boxes "cannot be considered" due to having identical identification numbers.
According to the lawsuit, the 2009, 2010, 2011, 2013 and 2015 models of the voting machines presented "insurmountable operating problems, with emphasis on the very serious failure in the individualization of each URNA LOG file and its repercussions in later stages, such as the Digital Record of the Vote (RDV) and the issuance of the Ballot Box (BU), and, consequently, in the absence of certainty as to the authenticity of the voting result,".
According to Bloomberg, the court has given Bolsonaro 24 hours to decide whether he will only include the 1st round of votes in his complaint.
Three weeks ago Bolsonaro refused to concede the election to challenger Luiz Inacio Lula da Silva, saying at a news conference: "As president and as a citizen I will continue to follow all the commandments of our constitution."
Since the rigged election, truck drivers loyal to Bolsonaro have blocked roads in over a dozen Brazilian states causing disruptions - including the road to Sao Paulo's international airport, leading to the cancellation of many flights.
Meanwhile, millions of Brazilians have come out to protest against the election stolen from Bolsonaro, and have asked for the armed forces to intervene.
"I'm fighting for my country, for my daughter and three grandchildren," 63-year-old Domingues Carvalho told AP after protesting for 15 days straight.
"I'll stay here as long as necessary. We are peaceful but we will never, ever leave our country in the hands of communists."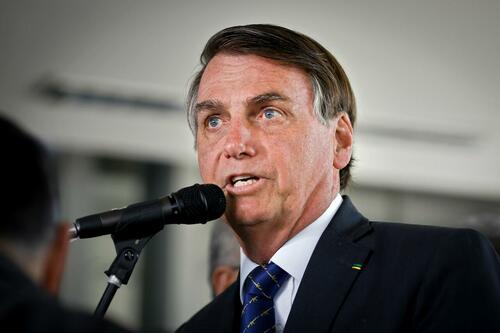 Bolsonaro called the protests in his favor a "popular movement" resulting from "indignation and a sense of injustice" over the election.
The massive protests that include millions of Brazilians keep going on across the country. The people in Brazil will not tolerate socialist control of their country.
The Brazil election reminds many Americans of the stolen 2020 and 2022 elections in the US. In 2020 President Trump shattered the record for the most votes by a President and yet the far-left politicians and RINOs in the GOP claimed victory for Joe Biden, a man who could barely get out of his basement.
In the 2022 election, there were similar results with candidates connected to President Trump losing races that were all but assured. The media in the US did what they are doing with Brazil, downplaying the majority who voted against the socialists.
These election steals could not happen without a corrupt media. Fortunately, people in the US and Brazil are going around the dishonest media to get to the truth.
---
---
---
Comments
***

As a Brazilian patriot, I can assure you that what's happening in the country is probably THE most important election integrity AND anti-leftist movement in the whole world - we are talking here about dozens of millions of citizens who are protesting on the streets, in front of military barracks AND social media, despite the absolutely illegal and dictatorial moves of Supreme Court Justice Moraes, who is single-handedly leading the country towards civil war.

In the meantime, the Armed Forces have released their own report indicating that the inviolability of ballot machines cannot be ensured; this was done almost at the same time as a damning audit released by a group of Argentinians (yes, Argentinians), who could do that because lunatic Moraes doesn't have jurisdiction over another country.

Lula has been convicted THREE times, and his corrupt band is eager to move back into power in order to dismantle the HUGE economic work done by Bolsonaro's team. It's simply now or never.

***

What's happening in Brazil is the most important movement now. President Bolsonaro should order the arrest of Lula immediately before he sets his grubby feet in the office. The military will back the President, there is no other way to deal with these communists. They use the rule of law to then go lawless. Also, time to and all digital "voting".

***

While Bolsanaro is at it, have him cancel 250,00 Arizona ballots cast from malfunctioning voting machines. And the 240,000 PA ballots sent out in "error".

***

Paper ballots, same day count, no mail-in, must show ID. If Florida can do it, so can you.

***

I assume he faces the same issue as we do here in the former republic of the US. A corrupted court system. Trying to fix fascism using the tools that the fascists own is a fool's errand.

***

Brazilian military is ready to move. American military is discussing genders.

***