From zerohedge.com
Protests in China over President Xi Jinping's zero-tolerance Covid-19 measures have intensified - expanding from Beijing and the far western Xinjiang region to several other major cities, including Wuhan, Shanghai, and the eastern city of Nanjing, according to video and photos circulating on social media.
The weekend protests followed Friday demonstrations in Urumqi, the capitol of Xinjiang, after a deadly fire killed residents who were locked inside following lockdowns which have lasted more than 100 days. Officials have reported 10 deaths in the fire, however citizens have reported up to 40 who perished.
The protests are a rare display from a typically compliant citizenry, who know that crackdowns on dissent have intensified over the past decade. As the Wall Street Journal notes, " Having protests over the same issue break out in multiple Chinese cities is almost unheard of, outside of nationalist outpourings, such as anti-Japanese protests."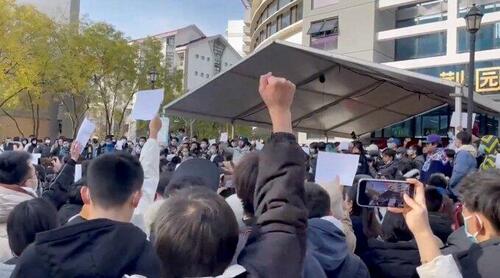 Since the Tiananmen Square protests in 1989, the ruling party has allowed some local demonstrations, but made it a priority to prevent nationwide protests.

On Saturday, videos circulating on social media showed crowds gathering on a street in central Shanghai calling for a lifting of lockdowns. The videos were verified by Storyful, a social-media research company owned by News Corp, parent company of The Wall Street Journal. -WSJ

During Saturday evening demonstrations in Shanghai - the largest city in the country, people were openly heard shouting anti-government slogans such as "Xi Jinping, step down!" and "Communist party, step down!" the BBC reports.

Demonstrators held blank white banners and lit candles to honor the victims in the Urumqi fire. There has been a large security presence around Urumqi Road, where people attempted to lay floral tributes for fire victims in Urumqi.

One Shanghai protester told the BBC that he felt "shocked and a bit excited" at so many people in the streets - saying it was the first such large-scale demonstration of dissent. A woman told the BBC that police said they feel "the same as you" about the protests, but "they wear their uniforms so they're doing their job."

As the Epoch Times notes; At Beijing's prestigious Tsinghua University, dozens of people held a peaceful protest against COVID-19 restrictions, according to images and videos posted on social media.

In one video, which Reuters was unable to verify, a Tsinghua university student called on a cheering crowd to speak out. "If we don't dare to speak out because we are scared of being smeared, our people will be disappointed in us. As a Tsinghua university student, I will regret it for all my life."

One student who saw the Tsinghua protest described to Reuters feeling taken aback by the protest at one of China's most elite universities, and Xi's alma mater.

"People there were very passionate, the sight of it was impressive," the student said, declining to be named given the sensitivity of the matter.

According to the report, "analysts say the government appears to have drastically underestimated growing discontent towards the zero-Covid approach, a policy inextricably linked to Xi Jinping who recently pledged there would be no swerving from it.".

In other areas of the country witnesses gave accounts of police violence, with one protester telling AP (so who knows if it's true) that one of his friends had been beaten by police, while two others were pepper sprayed.

The BBC saw police officers, private security guards and plain-clothed police officers on the streets, confronting protesters who assembled for a second day.

Demonstrators who led anti-government chants were taken away, and punched or pushed up against a police car in some cases.

Photos and videos have also emerged online that showed students launching their own protests at universities in Beijing and Nanjing on Saturday.

On Sunday, hundreds of people were seen demonstrating in Wuhan, where the Covid-19 pandemic began.
---
---
---
Comments
***

This needs to be happening against every tyrannical government.

***

XI will roll the tanks. 1989 may be LONG forgotten in the West but in China that's like it happened yesterday. And it's not like they ever apologized for that or engaged in a bunch of handwringing after the fact over whether they should have done it.

***

'Until they become conscious they will never rebel' -1984

***

When will the 2020 and 2022 ELECTION THEIVES be in prison, and the Biden family give back their ill gotten gains? Vermin thought they could start WWIII to protect their crackhead kids and Pedopolitical government.

***

No HONEST American believes Dementia Joe received more LEGITIMATE votes than President Trump. FJB and all the vote thieves! The US needs a color revolution, as it is an illegitimate and tyrannical government.

***

The people that settled this country were heavily persecuted Christians that knowingly got on ships that had a 70% chance of killing them before they arrived in America only to then have a 70% chance of dying in the first 2 years once here!

The founding fathers were a bunch of lawyers, farmers and blacksmiths, etc that took on the most powerful military in the world... None of them expected to survive. None of these people mentioned above did this for fun or adventure... they did it out of necessity... tyranny was impossible for them to live under...

And that is what defines an American... Nothing else... Not your citizenship or your family history, or your military service... Only your inability to live under tyranny. Live free or die.

***

At least the Chinese get that they won't be voting their way to a better future.

***

The WEF is clearly in bed with the CCP. For 30 years the mainstream narrative has been that China is better than the US and will rightfully take over the world... Only after Trump stood up to that, has that narrative changed... And the deep state wants it changed back to the old narrative of Chinese superiority.

***