By HANNAH BLEAU - breitbart.com
Conservatives rejoiced after the Supreme Court on Thursday rejected Biden's Occupational Safety and Health Administration (OSHA) vaccine mandate affecting over 84 million American workers, deeming it a "win for the Constitution."
In a 6-3 decision, the Court blocked Biden's OSHA vaccine mandate, which would have required employers with 100 or more employees to either mandate the vaccine or implement rigorous testing requirements. Notably, under OSHA's rule, the burden of the cost of testing would remain on the employee, effectively amounting to a work tax.
However, the court upheld the Centers for Medicare & Medicaid Services (CMS) vaccine mandate 5-4, although it explicitly acknowledged that the CMS mandate exempts employees who object to the vaccine for religious or medical reasons.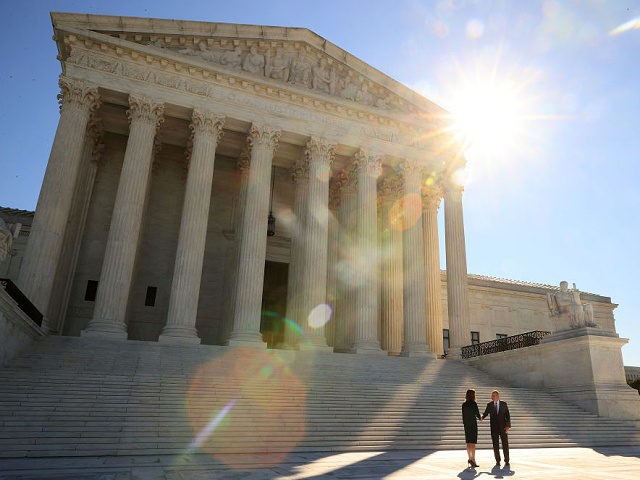 Conservatives celebrated the OSHA ruling, particularly, following the verdict.

Ambassador Ken Blackwell, who is now a senior fellow at the Family Research Council, celebrated the OSHA decision, calling it a "constitutional smack-down of Biden's imperial power grab." He criticized the CMS decision, but added, "Most people who object to the vaccine do so for religious or medical reasons, so the Supreme Court's affirming that those people are exempt from the CMS mandate is a silver lining here."

"It took the Supreme Court to set the record straight for the Biden Administration," Sen. Kevin Cramer (R-ND) said following the ruling, deeming it a "win for the Constitution."

"It's also a win for personal liberties and our economy, which has been ravaged by Joe Biden's inflation and supply chain crises," he said:

"The Supreme Court just BLOCKED the Biden admin's heavy-handed attempt to mandate the COVID-19 vaccine on private employers," Sen. Jim Inhofe (R-OK) said.

"They agree - The Biden administration has gone too far and it's time for them to stop," he declared:

Sen. Steve Daines (R-MT) deemed the Court's OSHA ruling a "BIG win for small businesses, workers and freedom," although he expressed disappointment in the CMS verdict:

"Today's Supreme Court ruling sends a clear message: Biden is not a king & his gross overreaches of federal power will not be tolerated," Florida Sen. Rick Scott (R-FL) said in reaction to the news.

"I had COVID & got the vaccine, but I will NEVER support a vaccine mandate that bullies hardworking Americans & kills jobs," he added:
---
---
---
Comments
***

This was only HALF-A-WIN. Kavanaugh is a putz. Roberts is a true globalist, semi-marxist.

***

It would be a huge win if SCOTUS had realized that it's just as unconstitutional to require health workers to submit that decree as it is for everyone else.

***

Healthcare workers should learn from union tactics: All healthcare workers walk off the job!

***

It's a half-assed decision thanks to the Chief Rino and Brett Craven-augh

***

Trump proved fixing this rotted to the core system from inside DC is impossible. You can't drain this swamp. You need to torch it and pave over the remains.

***

This is a major victory in a sea of idiotic happenings. It feels good to a degree. And I hope this is an indicator that things will be getting back to sanity soon.

***

Healthcare workers should learn from union tactics: All healthcare workers walk off the job!

***

I do not go to hospitals. I will die at home before i go into one of those places. Do not go to doctors either. 66 yrs old and doing fine. Eat well and keep all of God's natural laws. "Pure air, sunlight, rest, exercise, proper diet, the use of water, trust in Divine power-these are the true remedies. Every person should have a knowledge of nature's remedial agencies and how to apply them. It is essential both to understand the principles involved in the treatment of the sick and to have a practical training that will enable one rightly to use this knowledge.

***

I will never step foot into another hospital. Jesus is and will be my healer.

***

I was under the impression hospitals have been killing their patients for decades now. It is just much more brazen under the covid hoax. Fifteen years ago, my healthy 84-year-old neighbor, a farmer, broke his leg, went to the hospital, and was dead the next day. How do you die of a broken leg? Similar fate to another elderly neighbor who was a rancher, about ten years ago. I've concluded that once you're past 80, they kill you outright.

With younger people, they're more circumspect. I have an acquaintance who fell off a ladder twenty years ago, at age 47, and was flown, unconscious, to a hospital. After he woke up, they told him they were going to give him a pacemaker. He refused, and has never had a heart problem to this day. The examples go on and on.

Hospitals receive protocols or directives from the AMA. Doctors and nurses have no autonomy, and can't exercise any individual judgement. For Covid, I understand the protocol is over 300 pages. It dictates giving NO zinc, NO vitamin C, NO ivermectin. Just vaccines and ventilators.

***

I know of at least 500,000,000 reasons the U. S. will NOT go the way of Canada, New Zealand and Australia!

***