By Charlie Spiering - breitbart.com
A White House meeting between President Donald Trump and members of Congress blew up after the foreign policy establishment tried to convince him to keep American soldiers in Syria and act to defend the Kurds. Trump spent the majority of the day defending his decision not to engage militarily in Syria against the Turkish attack on the Kurds.
Trump hosted a bipartisan meeting with top Congressional leaders at the White House, including Senate Majority Leader Mitch McConnell, Senate Minority Leader Chuck Schumer, House Speaker Nancy Pelosi and other members of Republican Congressional leadership.
But the meeting did not last long. Trump described House Speaker Nancy Pelosi as a "third rate politician" according to Sen. Chuck Schumer, prompting Democrats to walk out.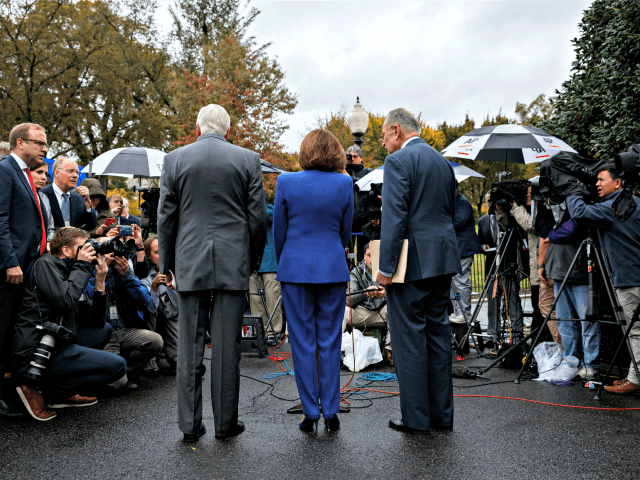 According to Schumer and Pelosi, "He was insulting, particularly to the Speaker, he called her a third-rate politician," Schumer said to reporters at the White House after they walked out the meeting. "This was not a dialogue, it was sort of a nasty diatribe not focused on the facts."

Pelosi claimed her response to Trump was "I said, 'I wish you were a politician Mr. President, then you would know the art of the possible,'" she said.

According to Schumer and Pelosi, Trump also told Democrats that some of the members of ISIS were "communists" which "that might make you happy."

White House Press Secretary Stephanie Grisham denied parts of Pelosi's account but described it as predictable. "While Democratic leadership chose to storm out and get in front of the cameras to whine, everyone else in the meeting chose to stay in the room and work on behalf of this country," she said in a statement, defending Trump as "measured, factual and decisive" in the meeting.

Grisham called Pelosi's decision to walk out of the meeting "baffling, but not surprising." "She had no intention of listening or contributing to an important meeting on national security issues," she said.

During a press conference outside the White House, House Majority Leader Kevin McCarthy (R-CA) said a meeting between congressional leaders and President Donald Trump came to an end because House Speaker Nancy Pelosi (D-CA) stormed out.

McCarthy said, "She storms out of another meeting, trying to make it unproductive. The other Democrats stayed and had a productive meeting."

He continued, "Unfortunately, the speaker tries to make everything political. Her own statements weren't productive. To storm out of a meeting -which I've watched time before during other crisis-is really not the ability of a speaker or the style how a speaker should carry herself out." He added, "It's concerning to me of her behavior and her actions. It's just unbecoming."

Trump shared photos of Speaker Pelosi on Twitter, accusing her of having a meltdown:

"Nancy Pelosi needs help fast! There is either something wrong with her "upstairs," or she just plain doesn't like our great Country. She had a total meltdown in the White House today. It was very sad to watch. Pray for her, she is a very sick person!"