By Katherine Rodriguez - breitbart.com
More than 30,000 callers blasted ABC for allowing The View's Joy Behar to spew "anti-Christian bigotry," but the parent company has not taken action on any of their complaints.
An estimated 30,588 angry viewers called the television network as of Wednesday morning, outraged after ABC broadcast an episode of The View this month in which co-hosts Joy Behar and Sunny Hostin mocked Vice President Mike Pence for his religious beliefs.
Media Research Center president Brent Bozell urged the television network to apologize for allowing religious bigotry to be tolerated on network television. The MRC posted contact information for 14 advertisers that broadcast on ABC, as well as information on how to get in touch with the president of ABC television network.
"I am sure the advertisers of 'The View' will be just as appalled as I am about the anti-Christian remarks made on the show," Bozell wrote.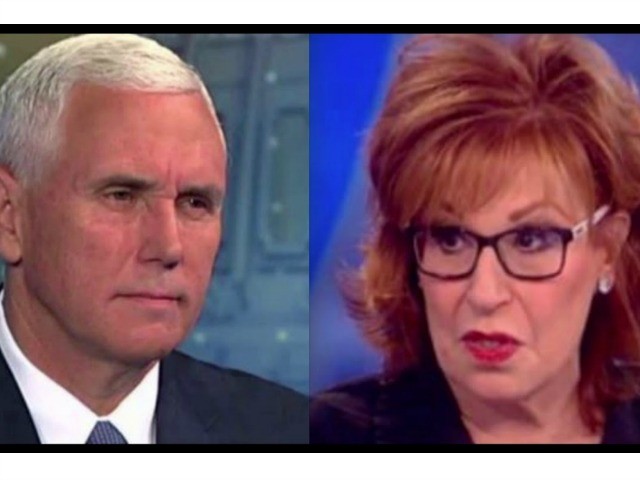 Behar and Hostin criticized the vice president for voicing his belief in Jesus Christ on the February 13 broadcast. "Look, I'm Catholic, I'm a faithful person, but I don't know that I want my vice president talking in tongues," Hostin remarked.

Behar replied that Pence's talking to Jesus is not a sign of faith, but a sign of "mental illness."

"It's one thing to talk to Jesus. It's another thing when Jesus talks to you. That's called mental illness, if I'm not correct, hearing voices," Behar said.

The ABC television network, which includes entities such as ABC News and Disney, has not yet commented on the matter or addressed the callers protesting the network.

Despite the outcry from ABC's viewers, the daytime talk show has not toned down its anti-conservative rhetoric. On Monday's broadcast of The View, Behar said attendees of the Conservative Political Action Conference (CPAC) "have a penchant for Nazis."