By Kyle Olson - breitbart.com
Society is seemingly melting down all around us, and there's a run on toilet paper. Seriously.
Why? Has toilet paper production been cut? No. Are we running out of trees? Nope.
Coronavirus is largely a respiratory ailment. But that hasn't stopped a collective freakout over the bare necessity of having clean bottoms.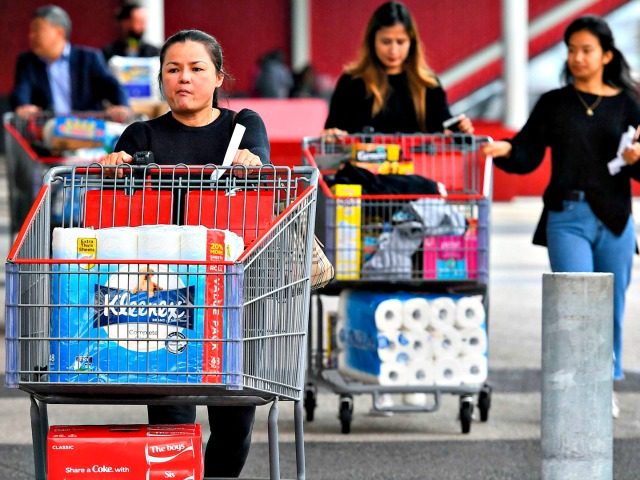 This morning, a man confronted an ABC 13 news crew outside an H-E-B store in Texas. Reporter Miya Shay was in the midst of a report when the man approached and shouted, "It's your fault that people are freaking out here."

"You all are the ones that are at fault," he said. "Uh, you're the one here at 6 o'clock in the morning," a member of the news crew responded.

After dropping several F-bombs, the man called the media crew "the scum of the earth."

"I don't even blame the Chinese. I don't blame them at all. It's you all that are hyping things up," he said.

The man's critique comes as store shelves all over the world are without toilet paper. The sight is similar to many across America.

In Denmark, the pandemonium had the appearance of a Black Friday sale.

In Canada, a shopper told CTV he was grateful to get his hands on toilet paper and will potentially use it to barter for booze.

"I don't know that we're going to make it through this," he said. "But now that I've got my stock of toilet paper, my family will be safe.

"When we go to the barter system, which will be very shortly, in my opinion, I think that my toilet paper is going to be able to be traded for alcohol, which I think is more important," he added. He didn't appear to be joking.

In Britain, women came to blows in a grocery store aisle: "Get off me!" one shrieked. "I just want one package!"

Elsewhere in the U.K., shoppers stripped a pallet bare in just seconds, like piranhas on a cow's carcass: Two women argued over a package of toilet paper. Video shows an elderly woman attempted to slap the other.

In Australia, News.com.au posted a time-lapse video of a horde of shoppers descending on the toilet paper aisle.

In Hong Kong, "Knife-wielding thieves" stole 600 rolls from outside a supermarket: 7News reported the thievery came "amid shortages of basic necessities caused by the coronavirus outbreak."