By Tony Lee - breitbart.com
Donald Trump Jr. on Tuesday said Morning Joe co-host Joe Scarborough owes the families of the victims of the September 11 terrorist attacks an apology for the "disgraceful" op-ed he published in which he declared that President Donald Trump Trump "has done more damage to the dream of America" than any terrorist ever could.
"Joe you owe an apology to the 3000+ families who lost loved ones on this tragic day," Trump Jr. tweeted. "Injecting politics today is disgraceful and only shows how irrelevant and deranged you've become."
In a Washington Post op-ed, Scarborough declared on the 17th anniversary of the September 11 terrorist attacks that "maniacal" President Donald Trump has "has done more damage to the dream of America" than any terrorist ever could.
"For those of us still believing that Islamic extremists hate America because of the freedoms we guarantee to all people, the gravest threat Trump poses to our national security is the damage done daily to America's image," he wrote in the Post op-ed.
He started his piece by writing about the "sixteen years of strategic missteps" and the "avalanche of strategic blunders set in motion by Osama bin Laden's attack on the United States."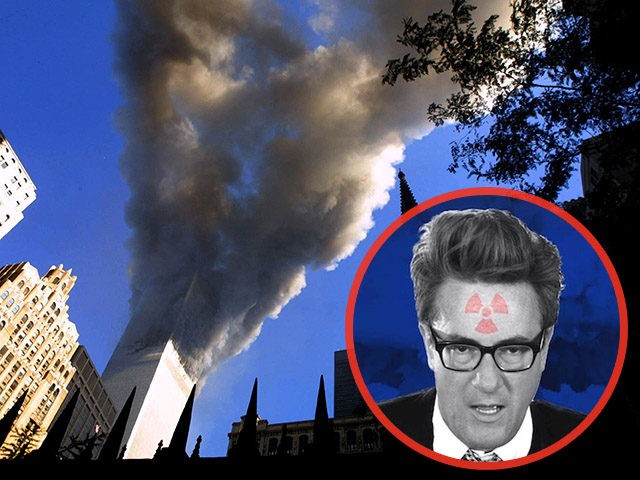 "On the eve of bin Laden's attacks, America's gross domestic product was nearly 10 times China's and 40 times Russia's. The U.S. military machine was unparalleled, with the Pentagon spending more on national defense than the next 15 countries combined. And despite those staggering outlays, Washington was running a $125 billion surplus," Scarborough said.

Scarborough then mentioned that "while the United States has been mired in endless wars and bloody occupations over the past 17 years, China has used that same period to aggressively develop economic partnerships across Asia, Europe, Latin America and Africa. Perhaps that is one reason China will soon overtake the United States as the world's largest economy."

He could have then pointed out that Trump got elected because Americans were sick and tired of the bipartisan permanent political class that got caught flatfooted on 9/11 and then immediately advocated nothing more than "military adventurism" as the only policy solution after the 9/11 terrorist attacks.

If he wanted to actually be provocative, Scarborough could have discussed China's rise over the past 17 years and made the case that George W. Bush's administration—by being oblivious to China's ambitions and enabling its rise by backing China's World Trade Organization membership while America was "mired in endless wars and bloody occupations"—could go down as one of the worst administrations in history if Trump does not succeed in making trade with China more equitable for the United States.

Instead, Scarborough concluded that Trump's "maniacal moves"—savaging "America's vital alliances," providing "comfort to hostile foreign powers," attacking "our intelligence and military communities, and lending "a sympathetic ear to neo-Nazis and white supremacists across the globe—have "done more damage to the dream of America than any foreign adversary every could":

The ultra-sensitive and image-obsessed Morning Joe co-host later sent some squirmy tweets on Tuesday in which he said that he could have made the column "less offensive" just to Trump supporters.