By John Nolte - breitbart.com

Incidents of violence and threats against the political right have escalated as the establishment media amp up its hate rhetoric against President Trump and his supporters.

The morning after Meet the Press moderator Chuck Todd compared media critics to racist segregationists and singled out Fox News as one of America's biggest problems, a man in a "mentally agitated state," and apparently upset over an officer involved shooting, intentionally crashed his vehicle into the studios of FOX 4 in Dallas, Texas.

Besides Todd, many in the media, especially at far-left CNN have "othered" Fox News and presented the network as a unique danger to America. CNN's Brian Stelter has gone so far as to spread conspiracy theories about Fox News controlling President Trump.

Hours after the far-left Washington Post published Joe Scarborough's September 11 op-ed claiming Trump is a bigger danger to America than the 9/11 terrorists, a mass shooting threat was made against a group of Trump supporters meeting at the president's hotel in Washington DC.

Overall in the media, most especially at CNN, a coordinated narrative based on nothing but palace intrigue and gossip has been deployed to smear Trump as mentally unstable, reckless, and in need of removal from office — via the 25th Amendment, if necessary.

Although no one is alleging any kind of wrongdoing on the president's part, and while Trump's domestic and foreign policy have put the country in the best shape it has been in in nearly 30 years, the media are using Bob Woodward's anonymously sourced book and an anonymous New York Times op-ed to scare and divide American into believing an objectively successful president is a madman.

To hype his latest book, Fear: Trump in the White House, Woodward said on the Today Show this week that Trump "jeopardizes" our economy and national security. Woodward, however, did not and was not asked to explain how this could be true when the country is doing so well.

CNN constantly attacks Trump with hate rhetoric, smearing him as "delusional," as not mentally or psychologically "fit" to be president. Like Woodward and the Times op-ed, this is all being fed to the media anonymously.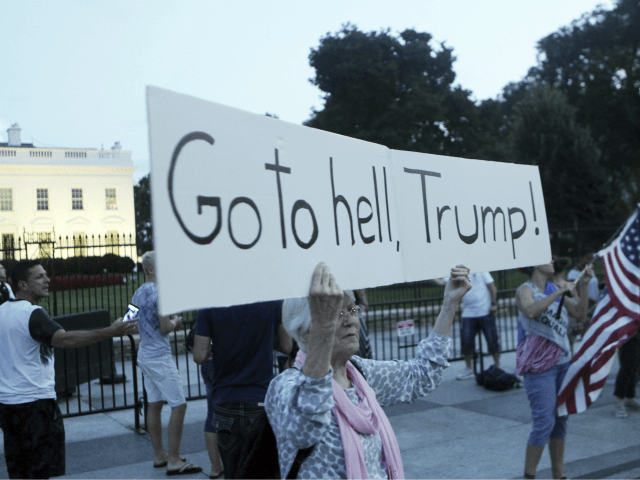 But over the past week or so, as the economic news has gotten better and the Russia Collusion Hoax has collapsed, the desperate hate-rhetoric from the media has escalated. These attacks have also extended to the Republican House for "not doing anything" to save our country from the madman Trump. Disgraced Watergate journalist Carl Bernstein stated on CNN that he believes our country needs to be "saved" from Trump.

What kind of dogwhistle is he sending with rhetoric like that? While most voters roll their eyes at the melodrama, the real world effects of this inflammatory rhetoric are strikingly real.

Breitbart News has already tallied over documented 550 instances of harassment, threats, and outright violence aimed at Trump and his supporters, and now were are seeing a definite uptick this week as the media have amped up their ad hominem attacks.

On top of the two incidents above, a GOP congressional candidate in California was attacked with a switchblade on Saturday; a GOP campaign office in Laramie, Wyoming, was lit on fire two days after it opened; conservative columnist Denise McAllister has been forced into hiding due to death and rape threats; and a Broadway actress openly called for Trump's assassination,

When you compare Trump supporters to segregationists, claim Trump is worse than the 9/11 terrorists, and tell the world we have a madman for president, of course you are calling for drastic action against both him and his supporters, and that includes assassination.

Reported acts of anti-Trump violence over the last two months:

September 10, 2018: Hispanic Immigrant says she was spit on in Santa Monica for Trump hat.

September 10,2018: Broadway Star Carole Cook on Trump: 'Where's John Wilkes Booth When you Need Him?

September 6, 2018: Media and Leftists Harass Rep. Devin Nunes (R-CA) and His Family

September 6, 2018: Black Trump Fan Booted from Bar for Wearing Trump Hat

September 6, 2018: Arsonists hit Wyoming GOP Headquarters

September 5, 2018: TV Writer Hopes Kavanaugh Daughters 'Go to School Without Being Shot'

August 31, 2018: Dem Rep. Ruben Gallego Threatens Immigration Officials

August 28, 2018: California student arrested for stealing MAGA hat from classmate, slapping teacher

August 19, 2018: Dad Dares Daughter To Knock Off Guy's MAGA Hat For 100 Bucks. She Does It.

August 18, 2018: Trump supporter assaulted by aging punk rocker.

August 14, 2018: CNN's Chris Cuomo justifies and encourages violence against Trump supporters.

August 12, 2018: TX Restaurant forced to close social media accounts over photo of Jeff Sessions

August 9, 2018: FBI announce arrest for contract killing threat of ICE agent via Twitter

August 9, 2018: Antifa blocks Infowars reporter's access to park

August 8, 2018: Democrat protester harass GOP rep. "Shame on your Mexican wife!"

August 6, 2018: Infowars reported harassed by Antifa in Portland

August 6, 2018: FL: Vandals throw dead fish on Lee Co. Republican headquarters

August 4, 2018: Trump supporter's car has all 4 tires slashed in Philly.

August 4, 2018: Left-wing terrorists Antifa follow and harass Candace Owens

August 2, 2018: Man arrested for threatening Rep. Steve Scalise

August 1, 2018: Woman charged with trying to hit man with her car over Trump sticker

July 26, 2018: KY: Fayette County GOP headquarters vandalized

July 26, 2018: Trump supporter punched in Hollywood

July 25, 2018: Trump's Hollywood Walk of Fame star destroyed … again.

July 25, 2018: Man arrested, indicted on charges after allegedly threatening Congresswoman Diane Black

July 24, 2018: Sen Cory Booker (D-NJ) Says Brett Kavanaugh supporters are "complicit in evil"

July 23, 2018: Denver Post Runs Letter to Editor Suggesting Trump Should Be Executed

July 23, 2018: Elizabeth Warren Supporter Shoves Challenger

July 20, 2018: Green-Haired "Gender Fluid" Guy Spits All Over Teen's MAGA Hat

July 20, 2018: 'Hang Trump' Shirt Peddled on Facebook

July 19, 2018: 'New Yorker' Kills Trump

July 19, 2018: CA Anti-Trump Protesters Target Legal Immigrant's Cafe Over Trump Support, Hurl Feces

July 17, 2018: Uber Driver Refuses to Serve Black Conservatives Over MAGA Hat

July 17, 2018: Gory Trump Throat-Cutting Art Decorates Portland Gallery

July 16, 2018: House Democrat Calls For 'Military Folks' To 'Stop Trump'

July 16, 2018: Mob chases pro-Trump group out of Los Angeles bar

July 15, 2018: Anti-Trump Paraglider Who Buzzed Trump Visit Arrested in Britain

July 15, 2018: Former Clinton WH Staffer: It's 'Tempting' to Beat up Rand Paul

July 13, 2018: Anti-Israel protesters harass Jared and Ivanka with loud speakers outside their home

July 13, 2018: 76-year-old man assaulted by anti-Trump thugs in San Diego.

July 11, 2018: ABC's Terry Moran shames Fox News's Shannon Bream for feeling threatened at SCOTUS protest

July 10, 2018: Protesters arrested, accused of assaulting officer at Portland ICE office

July 10, 2018: Man threatens to 'curb stomp' Trump supporter at Disneyland

July 10, 2018: Fox News Reporter Harassed, Threatened And Forced To Leave Supreme Court By Leftist Mob