By Luis Miguel - thenewamerican.com
Seattle residents near the city's Capitol Hill Autonomous Zone (CHAZ), a six-block "cop-free" area run by armed Black Lives Matter-aligned insurrectionists, are responding to the city's uncertain public safety situation by hiring private security to protect their property. As the Seattle Times reports:
Security companies also reported an uptick in protection requests from businesses of all sizes and residential complexes downtown, in Capitol Hill, Pioneer Square and even Redmond, West Seattle and Tukwila. Fueling the surge, they say, are fears police consumed with controlling protests won't prioritize property protection.

The push toward private security began during the coronavirus pandemic closures, with businesses fearing break-ins on abandoned streets. It continued even as businesses reopened, with staff sometimes encountering unusually hostile customers seemingly stressed out by the pandemic. Then, things really took off once the protests began.
Private security contractor Denise Bamba said her phone "logged more than 200 calls" in a single day from prospective customers.
Denise's husband, Deschamps Bamba, said citizens are turning to private security because they "understand that all of the police resources are geared towards the protests."

"It leaves all of these buildings vulnerable to break-ins and causing problems," he added.

It doesn't help that the city's response to the rioting, looting, vandalism, and violence has been one of appeasement. CHAZ arose after the Seattle Police Department (SPD) abandoned the East Precinct and withdrew its presence completely from the surrounding neighborhood, leaving dwellers of the area in the hands of a rapper-turned warlord who patrols the streets with an AK-47 and handgun and has been caught on video physically assaulting a man.

Now the people of CHAZ are reportedly victims of extortion as businesses are forced to pay protection money to the autonomous zone's leaders, and citizens must present ID just to enter their own homes. Except for urgent 911 calls, city police don't dare enter the area, whose border is closed off with barricades and monitored by armed guards.

SPD Chief Carmen Best, who has said it was not her, but rather the city, that decided to abandon the precinct, stated that the situation has made it difficult for law enforcement to respond to emergency calls such as robberies and rapes taking place within CHAZ.

"These are responses to emergency calls - rapes, robberies, and all sorts of violent acts that have been occurring in the area that we're not able to get to," Best said. She continued:
If that is your mother, your sister, your cousin, your neighbor's kid that is being raped, robbed assaulted (or) otherwise victimized, you're not going to want to have to report that it took the police three times longer to get there to provide services to them

It was never an option to have residents of the precinct, many of whom are members of our most marginalized communities by the way, waiting for an extra length of time for an officer to arrive to a violent crime in progress.
Best maintains she is working on a plan to reopen the precinct as calls for service have tripled.

Yet after Best claimed the precinct's abandonment was due to the city government "relent[ing] to public pressure," Mayor Jenny Durkan (D) fired back that she did not directly give the order to relinquish the building but that the decision was made by "SPD Frontline Commanders on site."

Nevertheless, the mayor has voiced support for CHAZ, telling CNN that the armed insurrection isn't a threat to Seattle residents at all, but "more like a block party" or the "summer of love."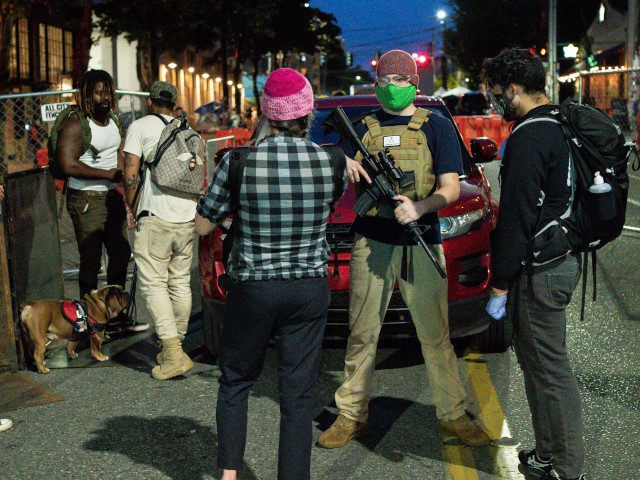 THIS IS A BLOCK PARTY?
"We've got four blocks in Seattle that you just saw pictures of, that is more like a block party atmosphere. It's not an armed takeover. It's not a military junta," Durkan said, adding that "what the president threatened is illegal and unconstitutional, and the fact that he can think he can just tweet that and not have ramifications is just wrong."
Durkan's argument that the president's involvement in the situation would be illegal would be true if this were a mere police issue. After all, police powers are among those reserved to the states under the Constitution.
But the question in Seattle goes beyond crime. It's an insurrection. The rioters have even written, "You are now leaving the USA" on buildings in the autonomous zone.
Article I, Section 8 authorizes Congress to "provide for calling forth the Militia to execute the Laws of the Union, suppress Insurrections and repel Invasions." And with the 1807 Insurrection Act, Congress authorizes the president to use troops when rioting becomes insurrection that "opposes or obstructs the execution of the laws of the United States or impedes the course of justice under those laws."
With the real potential that CHAZ may expand, one thing is clear: Action, whether on the part of the president or local officials, must be taken before the entire city is consumed by anarchy.