From breitbart.com
Twitter's stock has dropped by more than 18 percent percent in morning trading following the company's report of a consistent quarter-over-quarter decline in monthly active users.
Following the release of Twitter's Q2 financial report, the company's stock dropped by more than 18 percent in morning trading. One of the main reasons for this appears to be the platform's consistent decline in their "monthly active users" number. Business Insider reports that Twitter beat revenue estimates but many other reported figures met analyst predictions.
Twitter reported a revenue of $711 million, up 24 percent year over year. Twitter's EBITDA (Earnings before interest, taxes, depreciation, and amortization) was $265 million, up from $178 million last year, but critically, their monthly active users for the quarter were 335 million, down from 336 million in the first quarter.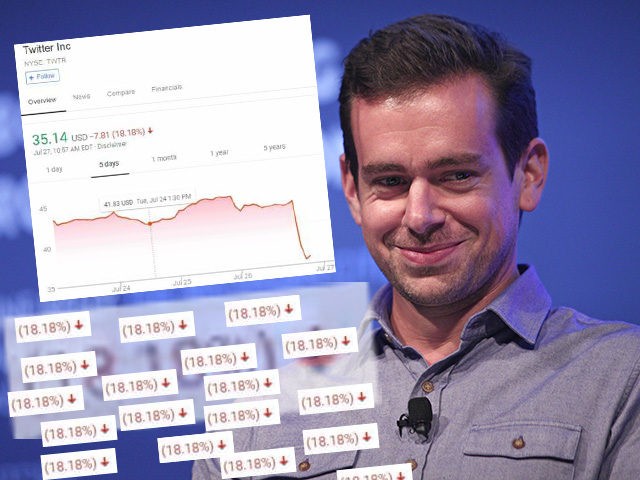 Twitter has blamed the drop in monthly active users on new European privacy rules known as the GDPR which came into effect on May 25. The company also blames their poor monthly active user figures on their decision not to move to a paid SMS carrier relationship, and their efforts to remove certain people from the platform, making it more advertiser-friendly. The social media platform is also banning accounts it considers bots in an effort to fight "malicious automation."

Twitter has faced a tough few days following an article in VICE magazine which appeared to confirm years of Breitbart News reporting about the act of shadowbanning conservatives in which Twitter limits a users followers from seeing their tweets. Following coverage of the issue, President Trump tweeted that he would be "looking into" the discriminatory practices by Twitter against Republicans.

"Twitter "SHADOW BANNING" prominent Republicans. Not good. We will look into this discriminatory and illegal practice at once! Many complaints."

— Donald J. Trump (@realDonaldTrump) July 26, 2018