By Joshua Caplan - breitbart.com
Portland police were accused Sunday of being heavy-handed against people protesting a rally by pro-freedom marchers, reportedly injuring members of Antifa and prompting the city's new police chief to order a review of officers' use of force.
Police in riot gear tried to keep the two groups apart, many of whom had come on Saturday dressed for battle in helmets and protective clothing. Dozens of the pro-freedom marchers traveled to Portland, one of America's most liberal cities, from nearby Vancouver, Washington.
This weekend's clashes were the most recent of several this year in the city as right-wing groups converged, met by far-left protesters, including members of the left-wing terrorist organization Antifa. City officials have struggled with striking a balance between free speech and keeping events from spiraling out of control.
Police "targeted Portland residents peacefully counter-protesting against racist far-right groups, including white supremacists, white nationalists, and neo-Nazi gangs," the Oregon chapter of the Council on American-Islamic Relations and the Portland chapter of the Democratic Socialists of America claimed in a statement.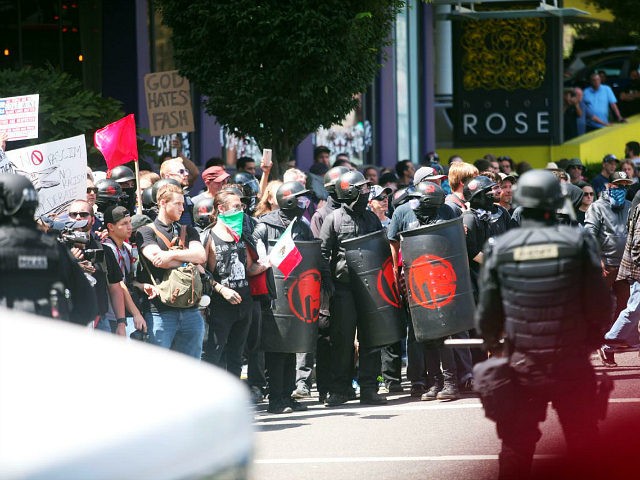 The Patriot Prayer, the organizing group which put the rally together, is led by Joey Gibson, who described his heritage as Japanese.

Police ordered the counter-protesters to disperse, then moved in behind a volley of stun grenades. One of the rounds reportedly hit a far-left protester in the head, becoming embedded in his helmet and injuring him. One woman was taken to a hospital after being hit in the arm and chest with a "flash-bang" grenade, local media reported. The blasts echoed through downtown Portland. Four people were arrested.

Police Chief Danielle Outlaw, who assumed command less than a year ago as Portland's first African-American female police chief, said in a statement Sunday she takes all use-of-force cases seriously.

Outlaw directed the professional standards division to begin gathering evidence to determine if the force used was within policy and training guidelines. The Office of Independent Police Review will be provided with the information for review and investigation.

Officers stood in the middle of a four-lane boulevard, essentially forming a wall to keep the two sides separated. In addition to Antifa, the counter-protesters were made up of a coalition of labor unions, immigrant rights advocates, and democratic socialists.

As Breitbart News' John Nolte reported in July, "Antifa is "freaking out" over a proposed law that would enhance penalties for anyone who "injures, oppresses, threatens, or intimidates any person" while wearing a disguise or mask.

Throughout our country, and for a number of years now — and primarily because the establishment media fantasizes about, promotes, enflames and approves of the violence committed against the right (naturally, HuffPo opposes the unmasking law) — Antifa has been allowed to run rampant, committing countless acts of violence against everyday, peaceful supporters of President Donald Trump.

Antifa has also been responsible for untold amounts of vandalism and property damage, and targets the alt-right. The Unmasking Antifa Act of 2018 can mean additional fines and prison terms of up to 15 years. The Hill reports the "bill was introduced by Republican Rep. Dan Donovan (N.Y.) and is co-sponsored by GOP Reps. Pete King (R-NY), Paul Gosar (R-AZ) and Ted Budd (R-NC)."

The Department of Homeland Security "formally classified" Antifa's activities as "domestic terrorist violence" as early as April 2016.

Patriot Prayer also has held rallies in many other cities around the U.S. West, including Berkeley, California, that have drawn violent reactions. "We're here to promote freedom and God. That's it," Gibson told Portland TV station KGW. "Our country is getting soft."