From breitbart.com
Sen. Cindy Hyde-Smith (R-MS) defeated former Clinton administration Secretary of Agriculture Mike Espy on Tuesday in the Mississippi Senate runoff election. With 99 percent of precincts reporting, Politico reported Hyde-Smith lead Espy by 8 points, 54 percent to 46 percent.
In the earlier election, Hyde-Smith won 41 percent of the vote, Espy won 40 percent, and conservative Republican State Sen. Chris McDaniel won 16 percent.Hyde-Smith and Espy qualified for the runoff election as the top two finishers in the November 6 election, in which neither candidate received 50 percent of the vote.
Hyde-Smith was appointed to the Senate seat in April by Gov. Phil Bryant when Sen. Thad Cochran (R-MS) resigned for health reasons. On Tuesday, almost all of McDaniel's supporters cast their ballots for Hyde-Smith, and the increased Democrat turnout was not enough to put Espy over the top.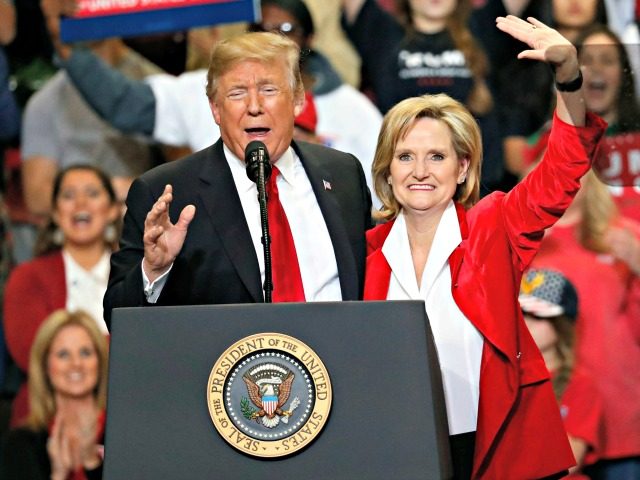 The three week campaign was marked less by policy proposals than it was by Hyde-Smith's campaign gaffes, predictable attacks against her by Democrats who claimed her gaffes proved she was a "racist," and Espy's long history of questionable ethics. Democrats had hoped to pull of an upset. But Espy proved to be a flawed candidate.

The final party breakdown of the United States Senate in the 116th session of Congress that will convene in Washington in January is 53 Republicans and 47 Democrats or Independents who caucus with Democrats. The net gain of two seats from the current Congress, which has 51 Republicans and 49 Democrats, is significant, as it now gives Senate Majority Leader Mitch McConnell (R-KY) more room to maneuver, and may give Republicans a two seat, rather than one seat, advantage in some key committees.

Democrats went all-in with their failed effort to push Espy over the top. Sen. Kamala Harris (D-CA) and Sen. Cory Booker (D-NJ), both likely 2020 presidential candidates, campaigned with Espy in Mississippi during the runoff.

Republicans, for their part, did not take the race for granted. "The RNC has over 100 paid staffers in the state and has made over 1.5 million Mississippi voter contacts (over 500k since election day alone), ensuring voters know the facts on the real Mike Espy," Mike Reed of the RNC's Communications Research group said in an email Monday.

At rallies in Tupelo, Mississippi and Biloxi, Mississippi on Monday President Trump encouraged Republicans to go out and vote for Hyde-Smith.

Hyde-Smith, in her victory speech, called it an "unbelievable campaign." She thanked President Donald Trump for his two rallies in the state Monday, which helped ensure strong Republican turnout, and also thanked Gov. Phil Bryant for appointing her to the seat and supporting her campaign.

"This win tonight, this victory, it's about our conservative values," Hyde-Smith said. "It's about the things that mean the most to all of us Mississippians: our faith, our family."

Hyde-Smith told reporters after her speech that she spoke to Trump shortly after the race was called, and said he told her she had "been through a storm and you've survived it." She said she had apologized for her controversial comments and planned to move on and look forward.

Asked if anything she had endured during the campaign would prevent her from running for a full term in 2020, she said, "absolutely not." "This is not for the faint of heart and I'm certainly not the faint of heart," Hyde-Smith said.

While Hyde-Smith's awkward reference to "public hanging" was used by Democrats in an attempt to portray her as racially insensitive due to the state's history of lynchings, Espy's ethical problems place him in a position where he was unable to take advantage of Hyde-Smith's gaffes.

The Washington Free Beacon, for instance broke the story last week that Espy paid off $267,000 in federal tax liens in January 2011, the same month he received a $400,000 payment from an Ivory Coast trade organization controlled by Laurent Gbagbo, the former dictator now on trial for human rights violations, noting that "Espy has had nearly eight different tax liens filed against him by the Internal Revenue Service for failing to pay income taxes throughout the 1990s and 2000s."

Several of the liens date back to income Espy earned in 1992 while serving as a member of Congress and extend to the entirety of his tenure leading the Department of Agriculture. The three most recent liens filed by the IRS against Espy were in June 2009 and September and December 2010. Those liens, totaling more than $267,000, remained unpaid until shortly after Espy entered into a fruitful lobbying contract with the government of Cote d'Ivoire.

Espy's business arrangement, officially a three-month, $750,000 consultancy through the Ivory Coast's Coffee and Cocoa Regulatory Board, came at the same time the country was undergoing political turmoil. Cote d'Ivoire's then-president, Laurent Gbagbo, had just lost his reelection bid and was refusing to cede power. Gbagbo, who had ruled the country since 2000 through extralegal means, denounced attempts to remove him from office as a "coup d'etat" and ordered forces loyal to him to kill, torture, and sexually assault political opponents.

As Breitbart News reported earlier this month, "The lobbying firm managed by Mississippi Democrat Senate candidate Mike Espy received a second payment of $350,000 from a trade organization controlled by African despot Lauren Gbagbo on March 1, 2011, eleven days before Espy told The Hill he had suspended his firm's contract with the organization and had only received a first payment of $400,000, a Department of Justice document discovered by Fox News reveals." AE Agritrade has subsequently been dissolved.