From zerohedge.com
President Trump has announced a tentative deal to reopen the government for 3 weeks until Feb. 15.
Trump is leaving his options open to call a national emergency to build the wall if no deal is reached. He also said he would look at border technology including drones. Furthermore, the wall won't be a "medieval" wall but will be a "see-through steel" "smart wall" built in "preidentified strategic areas" with features like see-through visibility.
"If we don't get a fair deal from Congress, the government will either shut down on Feb. 15 again, or I will use the emergency powers...to address this emergency. We will have great security," Trump said.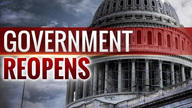 But while Trump conceded that the US doesn't need "2,000 miles of concrete wall from sea to shining sea," if Dems don't work with him to strike a suitable deal that would include building "smart walls" in strategic locations across the border - the exact nature of the package will be determined with input from the experts at DHS - he would shut down the government again and call a national emergency to implement his border vision without the help of the Democrats (he started his speech by reminding his audience that he has a "very powerful" alternative..." that he didn't want to use at this time. In what will come as a relief to the 800,000 federal workers going without pay, Trump said he would sign a bill to authorize back pay "as soon as possible."

In what was perhaps the most memorable comment from the speech, Trump said he would rely on "smart walls" which he said would do the most to stop drugs and human traffickers from entering the US.

'The walls we are building are not medieval walls, they're smart walls... We do not need 2,000 miles of concrete wall, we never did, we never proposed that we never wanted that...because we have natural structures that are already there and they've been there for millions of years. Our structures will be in pre-determined high risk locations that have been previously identified by the border patrol...no border security plan can work without a physical barrier...it just doesn't happen.

The smart walls would be equipped with sensors and other technology...as well as drones. Trump also said he would seek funding for more security at the nation's ports to allow for "quicker and safer" commerce. Finally, it would also include "desperately needed" humanitarian assistance for those being "abused by coyotes - smugglers". As expected Congress easily advanced the three-week funding bill.

However, President Trump had the last word before he signed the bill, lashing out at those who claim he folded:

I wish people would read or listen to my words on the Border Wall. This was in no way a concession. It was taking care of millions of people who were getting badly hurt by the Shutdown with the understanding that in 21 days, if no deal is done, it's off to the races!
- Donald J. Trump (@realDonaldTrump) January 26, 2019

So, whether its Ann Coulter or Nancy Pelosi, we suspect someone got up Trump's nose and we suspect that in three weeks, he will not quickly forget it.