By Ethan Huff - hangthecensors.com
Now that the Democrats purportedly control all three branches of government in the United States, their plan, according to Fox News host Tucker Carlson, is to seek revenge against the more than 74 million people who voted for President Donald Trump in 2020.
By labeling conservatives as "domestic terrorists," the Democrat Party hopes to turn one half of the country against the other using a classic divide-and-conquer tactic.
"The leaders of the Democrat Party have now decided that 74 million Trump voters weren't just wrong or misguided," Carlson stated during a recent segment. "They didn't simply back the wrong guy or have incorrect opinions or fail to see the obvious truths."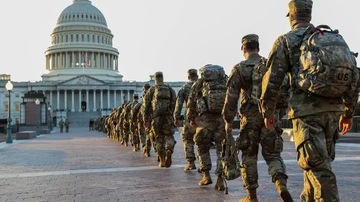 According to Carlson, Americans who voted for Trump are now in a whole new "threat" category alongside Al-Qaeda and ISIS. The left wants its followers to think that supporting Trump is the same as supporting Osama Bin Laden, and some are falling for it.

"No, the threat they pose is graver and more serious than that, more dangerous. These 74 million Trump voters are in fact, terrorists," Carlson says about how the left now views Trump supporters.

"They're a looming physical threat to the rest of us, and we must deal with them in the way that you deal with threats like that." This second "war on terror" is aimed at conservatives.

When Democrats launched the "Russiagate" hoax alleging "collusion" between the Trump campaign and Russia, they proceeded to trample civil liberties and due process. Now they are doing the same thing again, except this time against 74 million Americans.

"For years they told us this country had been infiltrated by Russian spies, but now we know it's worse than that," Carlson added sarcastically. "The real threat, the actual enemy is within. In the end, it always is. Seventy-four million deviationists lurk in our midst."

Carlson went on to joke that Trump supporter "terrorists" look like normal people, but that we should not be deceived.

"They are Trotskyites, they're wreckers, kulaks," he jibed. "We must root them out. It'll take a war to do that. An actual war. A war on our own people."

All joking aside, it actually is a whole new "War on Terror" that is now being launched against right-leaning Americans following the false flag "insurrection" that took place at the U.S. Capitol on Jan. 6.

As Pulitzer Prize-winning journalist Glenn Greenwald revealed, it is built upon the first War on Terror that was launched immediately after the 9/11 terrorist attacks. The Capitol "siege" has become 9/11 2.0, to be followed by a Patriot Act 2.0 to strip what little remains of freedom and liberty.

"No speculation is needed," Greenwald tweeted. "Those who wield power are demanding it. The only question is how much opposition they will encounter."

"The more honest proponents of this new domestic War on Terror are explicitly admitting that they want to model it on the first one."

Not only Trump supporters but "white supremacists," which the mainstream media says are one and the same, will be swept up in this new War on Terror. Anyone who is not a far-left adherent to the doctrines of LGBTQP, it seems, is a target.

Everyday Americans would do best to ignore all this propaganda and try to get along with their friends and neighbors because this effort to divide us all only leads to one thing: conquering us all. We must resist the temptation to fall into the trap of blind hatred, and join together to fight our joint enemy: the establishment.

TRUMP ANNOUNCES OFFICE TO CARRY ON HIS AGENDA

By Joe Hoft - thegatewaypundit.com

President Trump announced he created the "Office of the Former President". He will use this office to carry on the agenda of the Trump Administration.

President Trump announced that he is officially creating the 'Office of the Former President'. He announced this on Telegram today:
This is one of the first actions coming from the President since he departed Washington DC. President Trump was up on election night by hundreds of thousands of votes in multiple states.

But early in the next morning, Democrat operatives added hundreds of thousands of additional ballots to the election and by the end of the week, the states the President won on election night were flipped to Joe Biden.
The fraudulent activities related to these events have never been forensically audited and the court cases surrounding the apparent fraud have never allowed evidence to be presented.

US elections will never be free and fair in the future until all the fraud is investigated and adequately and independently addressed.

The 2020 election was the largest steal in world history. Everyone but the President and the American people were involved.