From zerohedge.com

Software used to tabulate votes cast in 47 Michigan counties erroneously gave 6,000 votes to Joe Biden in Anterim County, according to state GOP Chairwoman Laura Cox.

"In Antrim County, ballots were counted for Democrats that were meant for Republicans, causing a 6,000 vote swing against our candidates. The county clerk came forward and said 'tabulating software glitched and caused a miscalculation of the vote.'

Since then, we have now discovered the 47 counties used the same software in the same capacity," she said, adding "Antrim County had to hand count all of the ballots, and these counties that used the software need to closely examine their results for similar discrepancies."

Of note, Trump won Antrim County in 2016 with 62% of the vote vs. 33% for Hillary Clinton.

Meanwhile, in Oakland County, Michigan, another computer glitch was uncovered which gave an upset win to Democrat Melanie Hartman. Once it was fixed, her win was nullified and incumbent Adam Kochenderfer was declared the winner. According to the Detroit Free Press, officials are investigating the error.

Tom McMillin, a former state lawmaker from Oakland County and a member of the State Board of Education, said he noticed irregularities with the Antrim County vote totals late Tuesday, when he was checking out returns for Board of Education candidates.

In some precincts Biden and other Democratic candidates had far more votes than normal, McMillin said.

"It just looked weird," he said. "Two-thirds of the townships looked really messed up." "Apparently, there was a technical glitch in Rochester Hills. And so, I actually ended up winning by a little over 1,100 votes," said Kochenderfer. According to the Free Press, "The margin was 1,127 votes, to be exact. That gave him a 51.67% share of the total (with 48.23% going to his opponent, Hartman)."

"I'm very grateful to the officials who caught the error, but we need to ensure that we catch these issues, or prevent them entirely," Kochenderfer added.

White House spokeswoman Kayleigh McEnany tweeted about Michigan 'irregularities' on Friday:

Utah Attorney General Sean Reyes says the election has been 'compromised,' and is taking a personal leave to help the Trump campaign investigate.

SUPREME COURT ORDERS PENNSYLVANIA TO SEPARATE LATE BALLOTS

From theepochtimes.com

U.S. Supreme Court Justice Samuel Alito late Friday ordered Pennsylvania election officials to segregate and separately count ballots that arrived after Election Day.

Alito granted a request by the state's Republican party to separate mail-in ballots received between 8 p.m. Nov. 3 and 5 p.m. Nov. 6 from those that arrived by Election Day, in accordance with state guidance. He ordered that those segregated ballots must be kept "in a secure, safe and sealed container separate from other voted ballots."

The justice, however, did not order the counties to stop counting but instead ordered those ballots to be counted separately.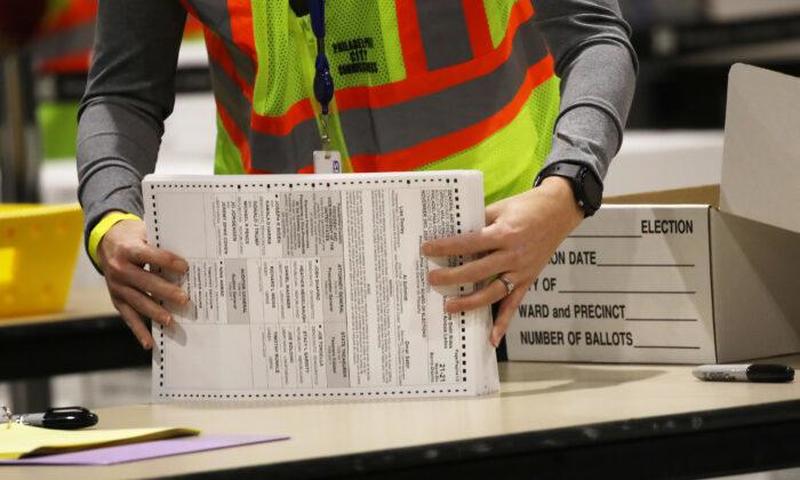 The Republican Party of Pennsylvania had filed a request earlier on Friday asking the court for an order to log, segregate, and not take any actions over mail-in ballots received after Election Day.

The Republicans argued that the order was necessary because it was unclear whether all 67 county boards of elections were following Boockvar's guidance issued on Oct. 28 on ballot segregation. The filing stated that while 42 counties confirmed that they would follow the guidance, the 25 remaining counties had not responded to whether they were segregating late-arriving ballots.

Moreover, Boockvar's guidances are not legally binding on the county boards of elections, which means the counties may choose not to follow the guidance, the party added.

The Republicans also raised concerns that Boockvar had reserved the right to change her guidance or to provide further direction over the ballots. They said that the secretary had done so when it issued new guidance on Nov. 1 (pdf) directing county boards to count late-arriving ballots.

"In short, an order from the Court is badly needed. But given some county boards' refusal to confirm that they are segregating ballots and the Secretary's changing guidance, an order requiring segregation of ballots may not suffice to preserve RPP's appellate rights," the Republicans wrote.

"An order at this juncture is necessary to preserve this Court's jurisdiction to resolve this matter on the merits, as well as its ability to enter an appropriate remedy for this general election," they added.

The Supreme Court has yet to decide on whether to review the case at hand. Alito said in his order that he had not been informed that the guidance issued on Oct. 28, "which had an important bearing on the question whether to order special treatment of the ballots in question," had been modified.

He also directed any responses to the application by 2 p.m. Nov. 7.