By Sean Moran - breitbart.com
House Republicans passed a revised version of the American Health Care Act (AHCA) on Thursday. The bill passed after moderate Republicans fretted this week about how well the bill will protect patients with pre-existing conditions. Many, including former Energy and Commerce Committee chairman Fred Upton (R-MI), previously came out against the bill, but now support it after GOP leaders agreed to add an amendment adding $8 billion to help cover people with pre-existing conditions.
The vote comes after a tumultuous process for the bill, which has seen previously scheduled votes pulled after Speaker Paul Ryan failed to accumulate enough Republican support. Speaker Ryan received widespread criticism after drafting the bill in secret and retaining many parts of Obamacare. Pundits dubbed the original bill, "Ryancare."
House Freedom Caucus chairman Rep. Mark Meadows (R-NC) stepped up and brokered a revised version of the bill, known as the MacArthur amendment, along with Tuesday Group co-chairman Rep. Tom MacArthur (R-NJ). The addition of the amendment collected enough Republican votes to pass the bill.
Meadows' efforts in no small part seem to have succeeded where Ryan failed, rallying his House Republican colleagues behind a years-long campaign promise to repeal and replace Obamacare–despite the fact that this bill does not constitute a full repeal of the previous president's signature law.
Vice President Mike Pence, White House Chief of Staff Reince Priebus, and others have worked alongside congressional Republicans, especially Meadows–who has emerged as a force in the negotiating process so strong that some have begun calling him the acting speaker of the House in the wake of Ryan's failures–to bring the new bill to the brink of passage.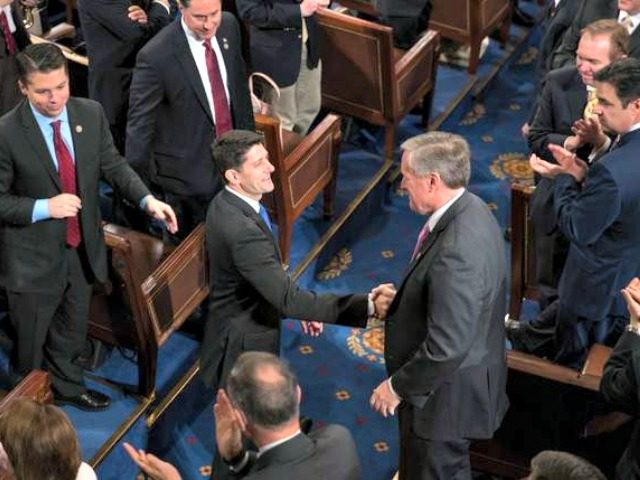 Meadows, in an exclusive interview with Breitbart News earlier this week, commended the actions of President Donald Trump, Vice President Mike Pence, and Congressman Tom MacArthur. He said:

Not only have we made good progress, we have to get give a good shout out to Tom MacArthur and the President and the Vice President for their efforts in the last couple of weeks. It would be a mistake to suggest that had Tom MacArthur, the President, and the Vice President have not gotten involved in this process, then we would not have the options now for everyone to consider. Tom has worked closely hard with Energy and Commerce Chairman Greg Walden and the committee to make sure that what we do is keeping in line with repealing and replacing Obamacare and drives down premiums and keeps pre-existing conditions.

The agreement, brokered by the House Freedom Caucus chairman and Tuesday Group co-chairman Tom MacArthur (R-NJ), would allow states to eliminate Obamacare's community rating system — a rule that prohibits health insurers from pricing health care plans based on age, gender, or health status. States that repeal Obamacare's community rating rules would have to join a high-risk pool to obtain the waiver.

The deal, known as the MacArthur amendment, would also reinstate Obamacare's Essential Health Benefits, although states could waive these if they were to prove that eliminating those regulations would lower premiums, increase the number of people insured, or "advance another benefit to the public interest in the state."

Essential Health Benefits require that health insurance plans must cover certain services such as doctors' services, inpatient or outpatient hospital care, prescription drugs, pregnancy, childbirth, and mental health.

The American Health Care Act replaces a number of Obamacare's taxes and subsidies with age-based tax credits to help people buy health insurance on the individual market. Freedom Caucus members, including Congressman Jim Jordan, previously said that the tax credits would create a new entitlement program. The AHCA repeals Obamacare's employer mandate, while it replaces the individual mandate with a 30 percent insurance premium surcharge for those who forgo health insurance. The bill will also cap Medicaid per capita starting in 2020.

It will most likely see changes in the Senate. Sens. Bob Portman (R-OH) and Shelley Moore Capito (R-WV) remain concerned about a provision in the American Health Care Act that freezes Medicaid expansion. Senator John Thune (R-SD), the third highest-ranking Republican in the Senate, has crafted a measure to better compensate older Americans for the high cost of health insurance.

Congressman Mark Meadows (R-NC) told Breitbart News that he will work with Senate colleagues to push for a more conservative version. "I am having conversations with my colleagues in the Senate," he explained, "where we can push for even more conservative solutions, because it was more difficult to push amendments procedurally in the House."

Senators Rand Paul (R-KY), Mike Lee (R-UT), and Ted Cruz (R-TX) were the strongest opponents of the American Health Care Act. Senator Paul crafted his own conservative plan for repealing Obamacare and worked with the Freedom Caucus to push for an even more conservative Obamacare repeal bill. The Freedom Caucus endorsed Sen. Paul's plan.

Meadows told Breitbart News, "I fully expect that we will repeal most aspects of Obamacare by the end of May. It may have been a deterrent in the first 100 days, but by the end of the first 120 days or so it will be seen as a significant accomplishment. It's not how you start, it's how you finish, as the as song used to say. We will have an excellent finish."