By John Nolte - breitbart.com
So the fascist corporations Hollywood and science-fiction writers spent decades warning us about have finally arrived, and it's not just the Big Tech Nazis. Coca-Cola and Delta Airlines are now trying to meddle in American elections by using lies and hypocrisy to wage war against voter integrity laws.
This week, the Woke Gestapo at Coke and Delta lashed out against the state of Georgia's perfectly reasonable laws to improve the integrity of that state's elections. Things such as voter ID, which is a 70-30 issue people support, including black Americans.
The Woke Gestapo at Coke and Delta oppose putting common sense safeguards in place to ensure drop boxes, early voting, and vote-by-mail do not become reservoirs of fraud by way of things such as identity theft and ballot harvesting, which allows activists to collect ballots.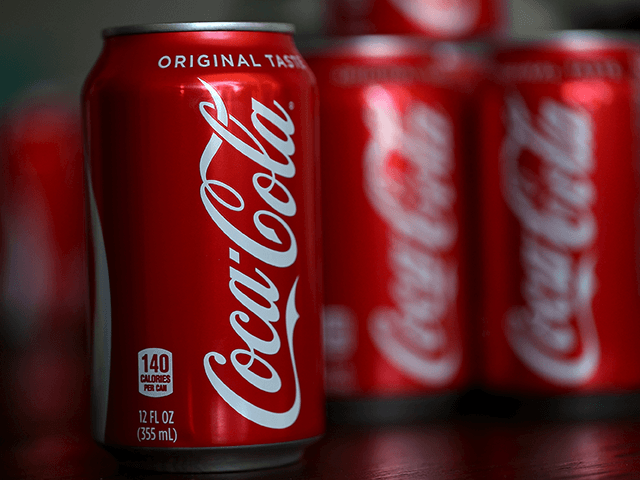 His Fraudulency Joe Biden attacked Georgia's voter integrity laws as "Jim Crow," even though his home state of Delaware, which is run exclusively by Democrats, has stricter voter integrity laws than Georgia's revamped laws.

Why aren't the Woke Gestapo at Coke and Delta raging against Delaware? Will Coke and Delta refuse to do business with Delaware?

No, because this is not about principle, it's about allowing Democrats to steal elections, virtue signaling, corporate bullying, and lies.

Case in point: Coke and Delta do business with countries such as China and Russia, where voting is a total joke, where everyone truly is disenfranchised, where human rights don't exist.

Hey, I know... Let's all try to fly on Delta Airlines without a photo ID and see what happens! Black people should try to board Delta flights without ID and see if the racists at Delta allow them to board.

And check out just how racist Coca Cola is when it comes to board meetings:

The people who run these Woke Companies are not just fascists and hypocrites, they are liars determined to gaslight this country into believing voter integrity laws disenfranchise voters when we all know the truth: cheating truly disenfranchises voters.

Polls clearly show the public's support voter integrity laws, but the Nazis who control the levers of power in our rotting and corrupt media, entertainment, academic, social media, and corporate institutions believe they can bully and terrorize duly elected officials into doing their bidding instead of the bidding of the people who actually elected them, those who they are supposed to serve.

We all know the truth... In order to assume power, Democrats need to flood the country with illegal immigrants and make it as easy as possible to cheat at the ballot box. What other conclusion can we come to when Biden floods the country with illegals and attacks voter integrity laws that are still nowhere near as strict as the laws in his home state of Delaware?

Few things are as evil or corrupt as Big Business and Big Government, and now that these two monsters have climbed into bed together, our freedoms are truly at risk, as is the integrity of our elections.

There is nothing these monsters will not do to gain power, even if it means something as monstrous as jamming cages full of illegal immigrant children during a pandemic.

NYT DOXXES CHAUVIN JURORS AS CASE FALLS APART

By Shane Trejo - bigleaguepolitics.com

With the murder case against former Minneapolis police officer Derek Chauvin falling apart, the fake news media may be resorting to jury intimidation to get the scalp they need to provide fuel for the far-left Black Lives Matter revolution.

The New York Times is publishing personal information about the jurors in the Chauvin case. Chauvin faces second-degree murder charges for the death of serial felon George Floyd, who had a tremendous amount of fentanyl in his system as he died in police custody.

"A white intensive care nurse who said if she saw someone on the street who needed help, she would feel obligated to step in. A Black grandmother who said she had no personal experience with the police or the criminal justice system," the Times article began.
It continued: "A white widow who rides a motorcycle in her spare time and said she believes that "all lives matter." A Black man who works in banking and said he was eager to serve on the jury of "the most historic case of my lifetime."'

"These are some of the jurors appointed to weigh the evidence in the case of Derek Chauvin, the white former police officer who is accused of murdering George Floyd, a Black man," the Times added.

Reporters obtained questionnaires filled out by jurors in order to discern details about their identities and reveal them to the public. The identities of the jurors are being protected by the court due to safety concerns.

"The racial makeup of the jury was more diverse than many expected - in fact, the jury has a higher percentage of Black people than the city of Minneapolis, which is about 20 percent Black. But strong views about racism and police brutality based on personal experience could be enough to get passed over," the Times wrote about their analysis of the jury.

Big League Politics has reported about two jurors essentially backing out of the case after it was revealed that Floyd's family received a massive taxpayer payout:

"Two jurors have been removed from the Derek Chauvin case following a $27 million payout to George Floyd's family from the city of Minneapolis.

The jurors said that the massive payout biased them and prevented them from being impartial while considering the case. This happened after they were questioned about the settlement by Hennepin County District Court Judge Peter Cahill.

One dismissed juror was a Hispanic man in his 20s who claimed that the cash payout to Floyd's family affected his ability to be impartial by "a lot."

"So, last time I was asked about my strong opinions against Chauvin," he said to Cahill. "Clearly the city of Minneapolis has some strong opinions, as well. And this just kind of confirms my opinions that I already had."

The other dismissed juror was a white man in his 30s who stated that the "dollar amount was kind of shocking to me. That kind of sent the message that the city of Minneapolis felt that something was wrong and they wanted to make it right to the tune of that dollar amount."

"I think in the headline if it would have said $2,000 versus $20 million, that's a big change," the juror said. "So I think that sticker price obviously shocked me and kind of swayed me a little bit, yes."

Two other jurors told the judge that the news did not change their opinions or otherwise prejudice them regarding the case.

"I've been thinking about this question a lot. I don't think so. It wasn't surprising that the city made this settlement," a female juror said. "I think they made their position clear when they decided to defund the police or take actions or steps towards that."

"It hasn't affected me at all because I don't know the details," a black male juror said. "I'm not a lawyer so obviously I don't know what went into making that decision."'

The Times will hide behind the excuse of journalism, but they may be sending an ominous message to jurors that, unless they make an example of Chauvin, the mob will be sent to their doorstep.