By JD Heyes - naturalnews.com
Illegitimate "president" Biden's regime is picking up right where he and Barack Obama left off in terms of weaponizing federal agencies against political opponents.
During the eight years of the Obama nightmare, the 44th president unleashed his FBI and Justice Department, as well as several U.S. intelligence agencies representing the deep state, on Donald Trump the moment he stepped into the GOP presidential primaries.
Dismissed as a joke by everyone on the left and within the GOP establishment, Trump's frank rhetoric and promises quickly propelled him to the top of the crowded Republican primary field and eventually to the nomination and the White House.
All along, we found out early on, the Obama regime had been spying on the Trump campaign and plotting ways to trip up the president-to-be and his staff. Obama's regime managed to ensnare an old nemesis - former DIA Director and three-star Army general Michael Flynn, as well as campaign manager Paul Manafort on charges that Obama's DoJ refused to level against him in 2014.

Now, Biden - or, rather, his left-wing handlers - have picked up the Obama gauntlet and are preparing to utilize the same deep state to target Georgia after Republicans there passed a new voter ID law meant to prevent the kind of ballot theft we saw in the 2020 election. The Conservative Brief notes:
Georgia Republican Gov. Brian Kemp signed a sweeping bill last week that overhauls his state's election laws.

In response to this major move, Biden threatened to have his own Department of Justice get involved and possibly take action against Georgia for legally passing legislation through their state House and Senate.

"We don't know quite exactly what we can do at this point. The Justice Department's taking a look as well," he said as he talked to reporters outside the White House.

Biden and his allies claim the new election laws are designed to suppress the vote.
When Democrats want to demonize, the play the race card; anyone who believes the Georgia law actually excludes black people from voting or makes it more difficult for them to do so in this day and age of hyper-racial sensitivity is a moron.

Besides - Biden insinuating that voter ID is discriminatory because minorities can't easily get a government identification card is completely stupid considering he's now thinking about requiring all Americans to have a COVID passport.

In any event, Georgia Republican Gov. Brian Kemp pushed back big time on Biden and the Democrats' characterization of the new law.

"It is obvious that neither President Biden nor his handlers have actually read SB 202, which I signed into law yesterday," Kemp said in a statement.

"There is nothing 'Jim Crow' about requiring a photo or state-issued ID to vote by absentee ballot - every Georgia voter must already do so when voting in-person," he added. "President Biden, the left, and the national media are determined to destroy the sanctity and security of the ballot box."

Democrats simply cannot be trusted to be honest.

Comments
***

As long as there is Dominion/Smartmatic voting or any electronic machines in Georgia, it doesn't even matter that there is a stricter voting law. Dominion switches votes at a perfect ratio making the chosen one win by around 3 percent. We are Venezuela.

***
TRUMP: BOYCOTT MLB AND COMPANIES OPPOSING VOTER ID
By Charlie Spiering - breitbart.com
President Donald Trump called for a boycott of Major League Baseball (MLB) Friday after they canceled the 2021 All-Star game in Atlanta to protest the new Georgia election law.
"Boycott baseball and all of the woke companies that are interfering with Free and Fair Elections," Trump wrote. "Are you listening Coke, Delta, and all!"
Over 100 companies joined to condemn the law after it was signed, including Facebook, Google, Bank of America, Apple, Microsoft, Coca-Cola, American Express, Delta, and the Home Depot.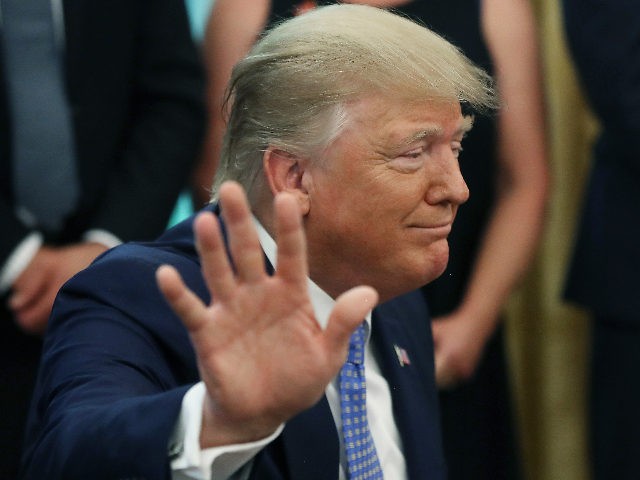 MLB commissioner Rob Manfred announced Friday his decision to move the All-Star game to a different host city, citing "thoughtful conversations" with players.

"I have decided that the best way to demonstrate our values as a sport is by relocating this year's All-Star Game and MLB Draft," he wrote in a statement.

Trump said baseball is losing "tremendous numbers" of fans because they are afraid of the radical left.

"They are afraid of the Radical Left Democrats who do not want voter I.D., which is desperately needed, to have anything to do with our elections," Trump wrote.

The new Georgia law, signed by Gov. Brian Kemp, requires an ID in order to get an absentee ballot and makes it illegal to mail out absentee ballot applications to voters.

The real president also had a message concerning the stolen 2020 election:

"Why is it that every time the 2020 ELECTION FRAUD is discussed, the Fake News Media consistently states that such charges are baseless, unfounded, unwarranted, etc.? Sadly, there was massive fraud in the 2020 Presidential Election, and many very angry people understand that. With each passing day, and unfortunately for the Radical Left CRAZIES, more and more facts are coming out.

Other than that, Happy Easter!"

Comments
***

Can't boycott them, they are already dead to me.

***

The problem with MLB and major corporations is that the people who made them great aren't running them any more. It's just a bunch of ill-educated cowards who stand for nothing and don't understand how the success was earned.

***

Very true about the executives at these multinational corporations. The founders have mostly left or been pushed out long ago and the current leadership is part of the transnational elite which has no allegiance to America or it's people. They are globalists that promote open borders and markets.

***

They are going to learn a good lesson. The people are sick of their behavior. A law that calls for voters to have a ID, what could be wrong with that?

***

Dems have been cheating in elections for over a century. The GOP has cowered to it long enough.

***

Democrat party along with their corporate masters are at war with the American people. Fight back!!!!!!!!!!!!!!!!!!!!!!!!!!!!!!!!

***

I'm done with Home Depot. Won't be shopping there anymore.

***