By Joel B. Pollak - breitbart.com
House Democrats cannot agree on a resolution to condemn antisemitism, and a closed-door meeting Wednesday to discuss the issue reportedly collapsed into infighting as rank-and-file members challenged the party leadership.
The meeting "erupted into a full-scale brawl Wednesday," the Washington Post reported, as some "protested plans to vote this week on a resolution condemning religious hatred, a measure prompted by [Minnesota Rep. Ilhan] Omar's comments last week suggesting supporters of Israel have "allegiance to a foreign country"
Omar, who apologized last month for antisemitic comments, set off a new crisis last week when she accused pro-Israel Americans of "allegiance to a foreign country." Democrat leaders, who have tried to portray President Donald Trump as a bigot, tried to manage the political fallout by promising a vote on a resolution condemning antisemitism on Wednesday. The resolution did not mention Omar specifically, and also condemned anti-Muslim prejudice.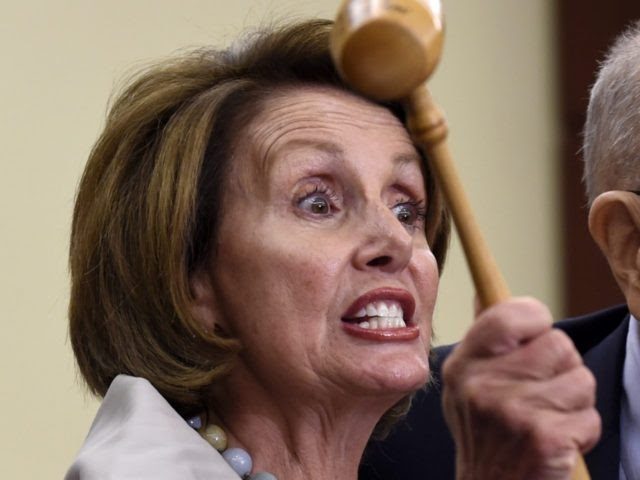 The Post noted: "Initially the measure targeted only anti-Semitism, with some Democrats pushing for a direct rebuke of Omar, but by Tuesday night - facing backlash from members not on board with the plan - leaders decided to expand it to include anti-Muslim bias." Even that was not good enough for the Democratic caucus.

In contrast, a resolution passed in January - and supported by Republicans - to condemn racist remarks by Rep. Steve King (R-IA) mentioned King specifically in the opening sentence. Republicans also stripped King of his committee assignments. Democrat leaders have declined to remove Omar from her committees - including the House Foreign Affairs Committee, where she oversees U.S.-Israel relations, among other contentious issues.

Speaker Pelosi could not commit Wednesday to a date for a vote on a resolution condemning antisemitism, and said that she did not think Omar's comments had been "intentionally" antisemitic - even though Omar repeated them after House Foreign Affairs Committee chair declared publicly that Omar had used a "vile anti-Semitic slur."

Many pro-Israel Democrats - most of whom are not Jewish - have bristled at Omar's suggestions that they owe allegiance to Israel, or that they had been bribed by pro-Israel groups. But the party has yet to take any action.

Earlier this month, House Majority Leader Steny Hoyer (D-MD), who had earlier defended Omar against charges of antisemitism, promised the party would take "further action" if she failed to learn and persisted in her rhetoric.