From headlineusa.com
Former President Donald Trump could roll out his own social media platform in the near future, according to Jason Miller, one of Trump's senior advisers.
He told Breitbart that Trump would be back on social media soon after being kicked off of Twitter, Facebook, YouTube, and other platforms one week before leaving office.
"I would expect that we will see the president reemerge on social media," he said. "Whether that's joining an existing platform or creating his new platform, there are a number of different options and a number of different meetings that they've been having on that front. Nothing is imminent on that."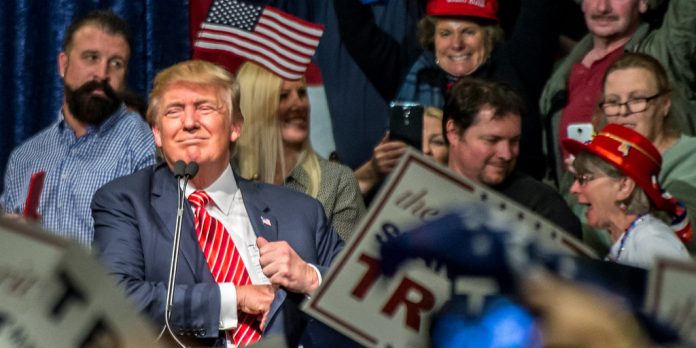 When pressed about whether Trump would join an existing platform, such as Parler, or create his own, Miller said: "All options are on the table. A number of things are being discussed. Stay tuned there because you know he's going to be back on social media. We're just kind of figuring out which avenue makes the most sense."

Big Tech de-platformed Trump after the Jan. 6 Capitol siege, arguing that he was a "dangerous" threat because he "incited violence."

Facebook said it has "no plans" to unblock Trump's account, and Twitter CEO Jack Dorsey said his company's ban of Trump is permanent.

Trump has long criticized tech companies, accusing them of censoring conservative views in an attempt to control political debate in the country.

"The tech companies are very dishonest about that and about free speech," Trump said last year. "It could be a big problem for them at the appropriate time."

Trump's future plans are still up in the air. Some close to the former president have said he plans to do something in media, whether that means starting his own television network of launching his own social media platform.

Others have said Trump is considering creating his own political party and using it to take down Republican politicians who opposed him during his final days in office.

RAND PAUL: SCHUMER SHOULD BE IMPEACHED

From headlineusa.com

Sen. Rand Paul, R-Ky., suggested Senate Majority Leader Chuck Schumer, D-N.Y., should be impeached for inciting violence, if that's the standard Democrats are going to use against former President Donald Trump this week.

Referencing comments Schumer made about Supreme Court Justices Brett Kavanaugh and Neil Gorsuch last year, Paul argued Schumer should be held accountable just as Democrats want to hold Trump accountable for supposedly inciting the Jan. 6 Capitol riot.

"If we're going to criminalize speech, and somehow impeach everybody who says, 'Go fight to hear your voices heard,' I mean really we ought to impeach Chuck Schumer then," Paul said in an interview on Fox News on Sunday. "He went to the Supreme Court, stood in front of the Supreme Court and said specifically, 'Hey Gorsuch, Hey Kavanaugh, you've unleashed a whirlwind. And you're going to pay the price.' This inflammatory wording, this violent rhetoric of Chuck Schumer was so bad that the chief justice, who rarely says anything publicly, immediately said this kind of language is dangerous as a mob tried to invade the Supreme Court."

Last spring, as the Supreme Court was preparing to hear oral arguments in a case about abortion rights, Schumer led a pro-abortion rally and said, "I want to tell you, Gorsuch, and I want to tell you, Kavanaugh, you have released the whirlwind and you will pay the price. You won't know what hit you if you go forward with these awful decisions."

In response, Chief Justice John Roberts condemned Schumer's "dangerous rhetoric."

But Schumer will not be held to the same standard, Paul argued, because Democrats are not interested in holding themselves accountable.

"If people want to hold President Trump accountable for language, there has to be a consistent standard and to my mind it's a partisan farce because they're not doing anything to Chuck Schumer, not doing anything to Rep. Omar, not doing anything to Maxine Waters. It's just not fair. It's just partisan politics under a different name," Paul said.