By Charlie Spiering - breitbart.com
In a stunning Friday announcement, President Donald Trump announced that he had selected General John Kelly as his new chief of staff, replacing former Republican National Committee (RNC) chief Reince Priebus.
"I am pleased to inform you that I have just named General/Secretary John F Kelly as White House Chief of Staff," Trump announced on Twitter. "He is a Great American and a Great Leader." Kelly earned the respect of the president as the head of his Department of Homeland Security (DHS), as the pair shared a deep respect for the rule of law and order.
"John has also done a spectacular job at Homeland Security," Trump added on Twitter. "He has been a true star of my Administration." The Trump White House experienced a dramatic 48 hours after White House communications director Anthony Scaramucci denounced Priebus in an expletive-filled conversation with a New Yorker magazine reporter. "I would like to thank Reince Priebus for his service and dedication to his country," Trump wrote. "We accomplished a lot together and I am proud of him!"
Earlier Friday, Trump traveled to Long Island to announce a war on gang members in the United States. "I want to congratulate John Kelly, who has done an incredible job of Secretary of Homeland Security," Trump said during his speech "Incredible. One of our real stars. Truly one of our stars."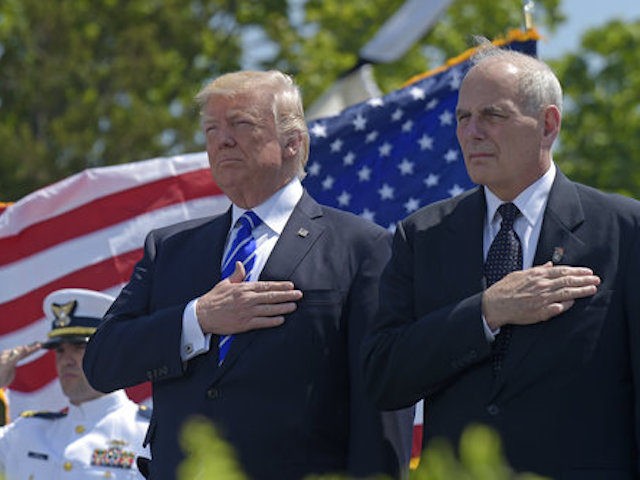 The president has appeared several times with Kelly to recognize the importance of the armed forces.

After the president received a sword during the United States Coast Guard commencement ceremony this May, Kelly joked, "use that on the press, sir."

Trump's decision signals that he wants more gravitas and discipline in his chaotic White House, relying on a retired Marine General to take the place of Priebus — who sometimes struggled to earn the respect of the president's staff. Despite his familiarity with Washington D.C. and friendship with Speaker Paul Ryan, Congress failed to deliver a bill repealing and replacing Obamacare.

In an July interview, Kelly said that when he was contacted by Priebus for a job in 2016 after the election, he "literally did not know Mr. Trump at all, and I didn't know anyone that knew Mr. Trump" and joked that he thought it was a prank from one of his retired friends.

When he asked his wife if he should do the job, she replied, "Well, you know, if we're nothing the Kelly family is a family of service to the nation."