By Alex Clark - breitbart.com
Violent scuffles broke out in the aftermath of competing protest marches Sunday in Philadelphia, leading to at least three arrests.
Shouting between a group of Trump supporters and alleged members of the violent left-wing "anti-fascist" movement Antifa accelerated into thrown punches on the sunny, 90-degree day. The fighting took place shortly after pro- and anti-Trump marches ended in the city Sunday afternoon.
One-hundred-fifty people attended the largest gathering earlier that day, a Trump impeachment march. Some of the march's participants were Antifa members. Sunday's attacks were the latest in a series of disruptions by that group including the Trump inauguration riots and the anti-free speech riot at Berkeley University in February.
Jeff Thomas, the leader of the Trump supporting group, had just finished leading a rally in Logan Square after a march from Philadelphia's Irish Famine Memorial. He and about 30 other Trump supporters then walked toward a bar on Arch Street, the Tir Na Nog, to celebrate. As they were walking toward the bar, they encountered around six purported Antifa members who shouted at the Trump supporters and purposefully bumped into individuals in the crowd. This scuffle was minor relative to the ensuing chaos. Thomas, a self-styled "anarcho-capitalist libertarian," described the fight as follows to Breitbart News:
At first, this chick who was the instigator of all this was standing near a guy on a bike with a man bun and a beard who runs over my feet with a bicycle that he put in front of us. He refused to let us pass on a public street. After that, the police told him to back off, which he didn't, although he stopped running over my feet. Then the first girl, the instigator, stood right in front of me as I was walking, she bumped me, saying, 'you're hitting me.' That happened four or five times until the cops came in a little tighter on the street.
The cops tried to break up our fight. Subsequently, we crossed the street to Tir Na Nog, our bar, and Antifa was in pursuit, mainly the guy on the bike and the chick. Then we were trying to enter the bar through the ally and then the chick proceeds to reach and grab my friend George's flag. The flag rips off the poll, then ten to 15 cops swarm out of nowhere.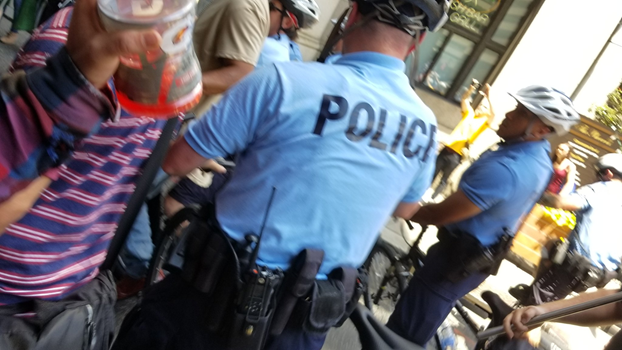 I see the flag on the ground, George gets sucker punched. Another guy in a salmon shirt got the flag and passed it to the guy on the bike with the beard. Then, the cops broke everything up and I took the flag back and I elbowed the guy in the black shirt with the man bun and beard to take back the flag. Then, it was all over and we got escorted into the bar by the cops while we were standing inside the bar to check on George. While we were standing there, a water bottle almost hit my friend in the face. An Antifa guy threw it inside the business. George Lewis, the local man who was punched by suspected Antifa foot soldiers, gave his side of the story to Breitbart News:

Basically it started as the Antifa protesters tried to block us from crossing market street. A girl was standing in front of Jeff; she didn't want him to cross the street. We just walked around. They weren't being forceful. They followed us, and they waited until we entered the bar. This girl in a salmon shirt, who instigated the whole thing, tried to pull my Kekistan flag off of my flag pole. As soon as I turned around to pull my flag back, I was sucker punched from the left and right. It was then just chaos.

According to the Trump supporters, this anti-Trump, alleged Antifa group was also willing to attack police. "One of the guys attacking us assaulted a cop," Lewis described to Breitbart News, continuing:

As I was taken to the police precinct to get in my statement about the attack, I noticed that one of the officers had a confiscated flag from Antifa. I asked him if I could have it and he said yeah. He was sympathetic to us, and he agreed that Antifa were political terrorists and agitators.

Lewis then offered his take on the suspected Antifa members' motivation. "These people are ill informed and they have no arguments, so they just resort to violence as a result of the media pushing fake news narratives. I hope things don't get more violent, but there's a good possibility of that happening," Lewis said.

Philly.com reports that two anti-Trump protestors were charged with assaulting the Trump supporter in the alleyway. A third was charged with assaulting a police officer during the fight. A fourth was issued a citation. Other Trump supporters commented on the surreal nature of the whole confrontation.

"It's one thing to hear about these fights in the news. It's another when it goes from a peaceful congregation of people to others coming in and attacking our friends. These guys on bikes looked like normal people and we didn't realize who they were until the altercation started," Frank, a pro-Trump demonstrator from Philadelphia, commented.

"These Antifa protesters have a goal of trying to steal our flags as trophies," he continued. While those in the suspected Antifa group failed to take any flags, they succeeded in taking one man's red "Make America Great Again" hat.

"This guy in black pants and a gray shirt was filming my friend and I [sic] from a car park on the alleyway across from the bar. He ran up, snuck up on me and snatched my Trump hat. The cops on bikes ran after him, but they failed to get him," Phil, the Philadelphia man whose hat was stolen, told Breitbart News. Both Frank and Phil did not want to give their full names.

"I think that the public needs to be aware that there are people under attack for their beliefs. The media is not doing enough to report on this trend," Phil claimed.

Jeff Thomas emphasized, "This is what we're trying to avoid. We don't want this, we didn't start this, but we will finish it. We're standing in the heart of liberty, the birthplace of America, and these so-called Antifa desecrate our founders' legacy."