By Tony Lee - breitbart.com
Soon after Sen. Jeff Flake (R-AZ) announced that he is retiring from the Senate on Tuesday, a source (or sources) close to former White House Chief Strategist Steve Bannon told reporters that Bannon got "another scalp."
Flake announced his retirement a week after Bannon and Laura Ingraham campaigned in Arizona for conservative Senate candidate Kelli Ward. Polls have indicated that Flake would have likely lost in his own primary had he chosen to run for reelection.
In Alabama, Bannon backed conservative grassroots candidate Judge Roy Moore, who thrashed D.C. establishment Senator Luther Strange (R-AL) in the Yellowhammer State's GOP Senate runoff. Sen. Bob Corker (R-TN), seeing the writing on the wall, announced his retirement just before Strange's shellacking.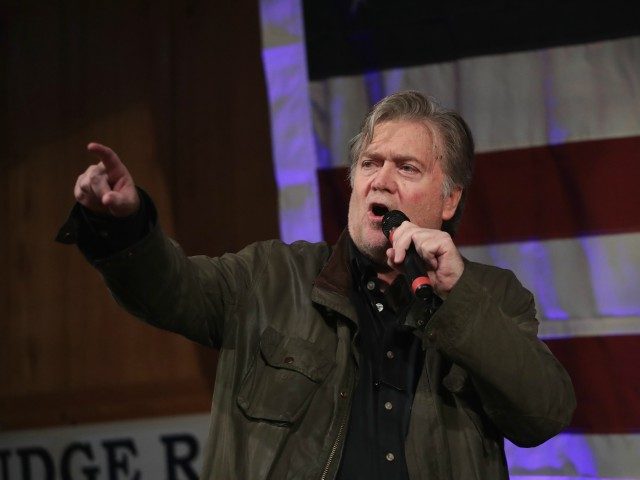 At the Arizona rally last week, Bannon mocked Senate Majority Leader Mitch McConnell (R-KY), telling him that his people are going home, in reference to McConnell's comment about how losers go home and winners make policy.

"Note to self, Mitch: Big Luther Strange and Little Bobby Corker are both going home," Bannon said to the raucous Arizona crowd last week. "The people of Alabama and the people of Tennessee have spoken. Your folks are going home, and their folks are making policy."

The "source closed to Bannon" reached out to reporters like Tara Palmeri, Kristen Welker, Eliza Collins, and Kaitlan Collins. Former Trump aide Sam Nunberg reportedly told the Washington Post's Bob Costa that Bannon now already has "three scalps" this year. "Another day, another scalp" — source close to Bannon on Sen Flake's decision not to seek reelection.