From zerohedge.com
We're starting to suspect that hurricane forecasters aren't much better at predicting the future movements of storms than market forecasters are at predicting the future movements of markets.
To wit, on Saturday, the National Hurricane Center shifted its forecasts for Hurricane Dorian, placing a large swath of the American Southeast in its path. This inspired South Carolina Gov. Henry McMaster to declare a state of emergency, and prompted President Trump to declare that storms like Dorian are "very hard to predict."
South Carolina's order will enable "all state agencies to coordinate resources and sets into effect the State Emergency Operations Plan," McMaster said. He went on to urge all South Carolinians to "prepare now".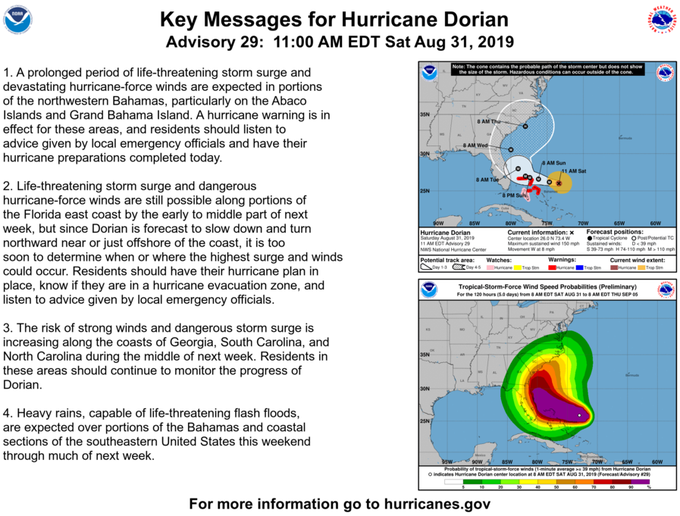 As of Saturday afternoon, Dorian was sporting an unusually wide 'cone of uncertainty,' which is making it especially difficult to track, according to the NYT.

According to the NHC, since Dorian has slowed down and could now turn northward just before making landfall in the Continental US, "it is too soon to determine when or where the highest surge and winds could occur." As a result, "the risk of strong winds and dangerous storm surge is increasing along the coasts of Georgia, South Carolina and North Carolina during the middle of next week."

Though it likely won't make landfall for a few more days, millions of Americans still have reason to panic. The storm was upgraded to a Category 4 Hurricane on Saturday. It now boasts maximum sustained winds of 150 mph, which is just 7 mph shy of Cat 5 status. Though its forward momentum has slowed - it's now moving west at just 8 mph - there's still a serious risk that it could make landfall as a Cat 4 storm, or greater.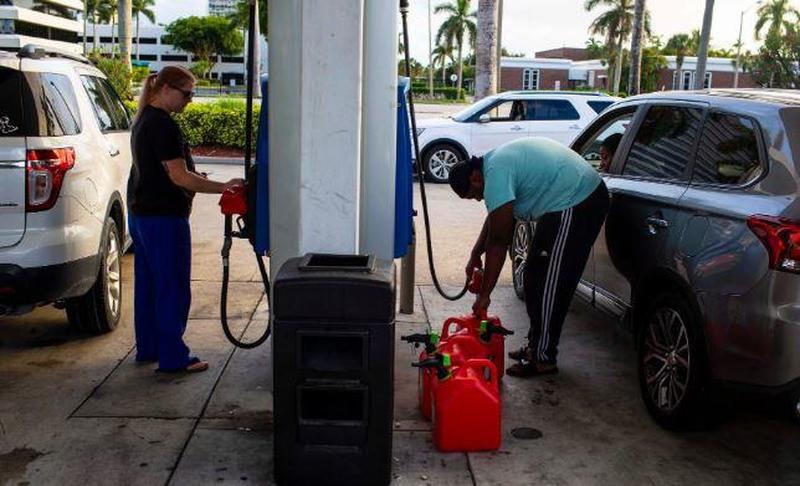 As of 2 pm on Saturday, the storm was about 205 miles east of Great Abaco, Bahamas, and roughly 400 miles west of West Palm Beach. The northwestern Bahamas will start feeling storm force winds Saturday night.

Even though the storm's path has shifted, Florida residents should still prepare for the worst. That includes "possible extensive power outages," according to a spokesman for Florida Power & Light. The utility has brought in about 18,000 workers in the state, and crews are staging at areas expected to be among the hardest hit, according to CNN.

Even if the storm doesn't directly hit Florida, it could still cause life-threatening flooding, Gov. Ron DeSantis warned. And "if it bumps just a little west, you're still looking at really, really significant impacts," he warned.

In Eastern Florida, shortages of gas and other critical supplies like bottled water are already being reported.

Businesses in Florida are already preparing by closing down and boarding up windows. Orlando International Airport will halt commercial flights on Monday beginning at 2 am. Daytona Beach International will also close after the last flights depart Sunday night.