From zerohedge.com
Third time turned out to be unlucky after all. Earlier today, Sen. Susan Collins said that she has serious concerns about the latest GOP bill to repeal and replace ObamaCare as Republicans prepare to vote on the legislation next week, adding that she was "leaning against the bill... I'm just trying to do what I believe is the right thing for the people of Maine."
And with Collins voicing against the bill, it meant that GOP leadership would be left with no room for error if they want to get their last-ditch ObamaCare repeal bill through the Senate next week.
The math is simple: Republicans have 52 seats and need 50 senators to support the bill, which would require Vice President Pence to break a tie, under the special budget rules being used to avoid a Democratic filibuster. Sen. Rand Paul has already said he will vote against the legislation. Which meant that losing just one more vote would mean the end of this latest attempt to repeal Obamacare. They lost it Friday when John McCain said in a statement that "I cannot in good conscience vote for the Graham-Cassidy proposal"
McCain added that "I would consider supporting legislation similar to that offered by my friends Senators Graham and Cassidy were it the product of extensive hearings, debate and amendment. But that has not been the case. Instead, the specter of September 30th budget reconciliation deadline has hung over this entire process. McCain's statement recalls his dramatic return to Washington in July after a brain-cancer diagnosis, when he cast the decisive "no" vote to send a health plan by Senate Majority Leader Mitch McConnell down to a stunning 49-51 defeat.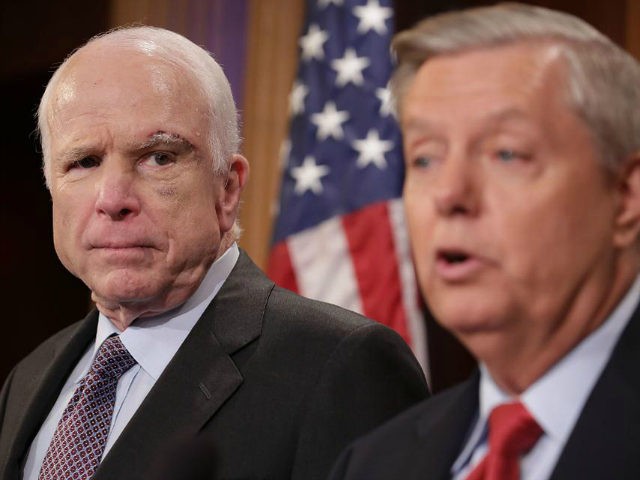 Ultimately, McCain demands the Democrats be part of any solution: "A bill of this impact requires a bipartisan approach" as "we should not be content to pass health care legislation on a party-line basis, as Democrats did when they rammed Obamacare through Congress in 2009."

In response to McCain's statement, Lindsey Graham, one of the bill's sponsors, tweeted "I respectfully disagree with McCain position not to proceed forward on Graham-Cassidy-Heller-Johnson" and that "I know Graham-Cassidy-Heller-Johnson is the best chance to repeal and replace Obamacare."

McConnell said earlier this week that he intended to hold a Senate vote next week before a Sept. 30 deadline to use a fast-track procedure allowing a simple majority vote. David Popp, a spokesman for McConnell, didn't immediately respond to a request for comment about McCain's decision.

President Donald Trump warned on Twitter on Friday, "Rand Paul, or whoever votes against Hcare Bill, will forever (future political campaigns) be known as 'the Republican who saved ObamaCare.'" The president is working the phone on the issue and is "open to having face-to-face meetings," adviser Kellyanne Conway said on Fox News. "The president is leaning in all the way."

And with the GOP's final attempt to pass Obamacare repeal before the end of the month now likely history, the market sighed a collective breath of relief, sending the managed care index soaring as the status quo is now assured to remain indefinitely.