By Joel B. Pollak - breitbart.com
The U.S. Supreme Court allowed President Donald Trump to begin building the wall on the U.S.-Mexico border using emergency funds, lifting an injunction Friday that had been imposed by a district court in California and upheld by the Ninth Circuit.
After Congress refused to appropriate enough funding to build a barrier along the border earlier this year, President Trump declared a national emergency to allow the administration to access more money.
In total, he ordered $8 billion spent - though, as Breitbart News pointed out, only $3.6 billion needed an emergency declaration.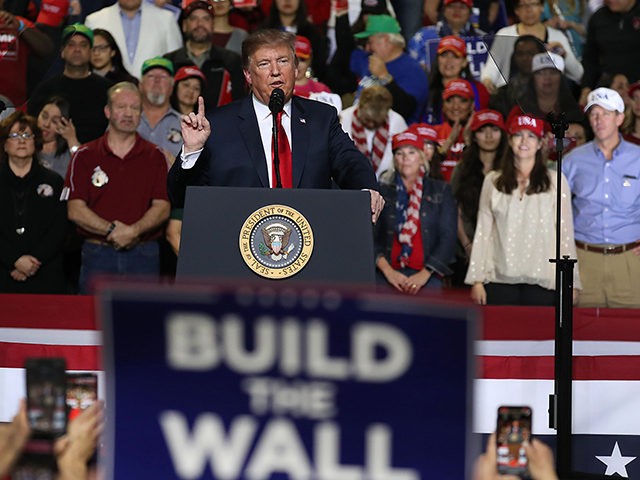 The president was exultant on Twitter:

"Wow! Big VICTORY on the Wall. The United States Supreme Court overturns lower court injunction, allows Southern Border Wall to proceed. Big WIN for Border Security and the Rule of Law!"

- Donald J. Trump (@realDonaldTrump) July 26, 2019

The decision was largely along partisan lines, with all five Republican-appointed justices voting to lift the injunction, while all three liberal justices were opposed. Justice Stephen Breyer sought to have it both ways, allowing the process to go forward but not the construction.

How did we get here?

As The Hill details, U.S. District Judge Haywood Gilliam in California, an Obama appointee, issued a permanent injunction blocking officials from utilizing $2.5 billion of the roughly $6 billion in diverted military dollars, siding with the groups' arguments that building the wall would cause "irreparable harm" to their interests at the border.

And the Ninth Circuit Court of Appeals, in a 2-1 ruling earlier this month, declined to temporarily halt that injunction, finding that "the use of those funds violates the constitutional requirement that the Executive Branch not spend money absent an appropriation from Congress."

House Democrats also attempted to sue to stop the diversion of the Pentagon dollars for a wall, claiming that only lawmakers can allocate federal funding under the Constitution.

Solicitor General Noel Francisco argued that the needs of the administration outweighed those of groups like the ACLU and Sierra Club who challenged the use of the Defense Department funds for the wall.

And now, with the court's four liberal justices at least partially dissenting, the justices lifted the lower court freeze, confirming the Trump administration can start using military funds to construct a wall on the southern border, handing the president a major legal victory.